Title: First Comes Marriage
Summary:
A Dreamspun Desires title
Their marriage was supposed to be all business....
When struggling novelist Chris Valentine meets Jesse Donovan, he's interested in a book contract, or possibly a date. The last thing Chris expects is a marriage proposal from New York City's most eligible bachelor!
Jesse's in a pinch: to keep control of his company, he has to marry. So he has valid reasons for offering Chris this business deal. In exchange for living in a gorgeous mansion for a year, playing the doting husband, Chris gets all the writing time he wants and walks away with a million dollar payoff. Surely Chris can handle that. He can handle living with the most handsome and endearing man he's ever met, a man he immediately knows he wants in the worst way and can't have. Or can he?
Release Date: 2016-01-15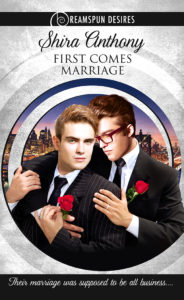 First Comes Marriage
Title: Forgotten Paradise
Summary: It's dangerous diving for secrets. When a mega company threatens to take over his family-owned business, programming prodigy Adam Preston escapes the stress with a much-needed vacation in the Dominican Republic. There he meets attractive, intelligent, insightful Jonah James, a scuba dive instructor, and what starts as a holiday fling soon blossoms into much more. But Jonah has a secret: ten years ago he woke up on an island beach with no idea how he got there… or even who he is. Their paradise may not be as perfect as it seems. When Jonah's memories come crashing back like waves on the sand, will it be Adam clinging to the proverbial life raft, or will the two men find a safe harbor to ride out the storm?
Release Date: 2017-04-15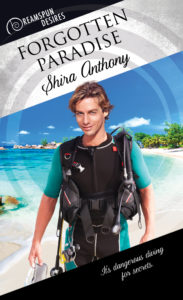 Forgotten Paradise