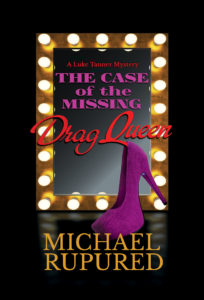 Please welcome the wonderful Michael Rupured, who's here to talk about his brand new release! I love a good mystery and I'm looking forward to reading this one. I was living in New York City in the early 1980s and the bar scene was huge at the time, so this one is right up my alley. Thanks, Michael, for visiting and best of luck with your new book! -Shira
*****
June is National Gay Pride Month. The Case of the Missing Drag Queen takes place in 1982—thirteen years after the 1969 Stonewall uprising many credit for launching the gay liberation movement. I was eleven when the riots erupted. By the time I came out ten years later, gay bars had become the center of the LGBT universe in communities across the country.
The world was different when I came out. Gay celebrities didn't exist. Even Liberace was in the closet. Before 1987, homosexuality was classified as a mental disorder. Sodomy laws had been repealed in some states, but in most—including my homes state of Kentucky—same-sex relations were against the law.
Sound like a club you'd like to join? Not me. No way I was "one of them."
My first trip to the gay bar was a revelation. Seeing guys like me dancing together and having a good time flipped the switch. Here were my people and a place where I belonged.
I devoted the next decade to drinking, dancing, and being outrageous at my favorite gay bar in Lexington, the setting for The Case of the Missing Drag Queen. Everybody pretty much knew everybody else—at least by reputation. It was like a drunken high school dance, six nights a week, with no teachers or chaperones.
Writing and researching The Case of the Missing Drag Queen was a trip down Memory Lane. In many ways, my life sucked. I worked two and three jobs, could barely afford a tiny one-room apartment, and at the lowest point, had no car. Even so, I had the time of my life.
The Case of the Missing Drag Queen
Series: Luke Tanner Mysteries, Book One
Publisher: DSP Publications
Genre: Mystery, LGBT Fiction
Word Count: 60K
Cover Artist: Alexandria Corza
BUY LINKS
AMAZON | B&N | KOBO | DSP PUBLICATIONS
Blurb
Broke, saddled with a mountain of debt, and dependent on his Aunt Callie's support, aspiring writer Luke Tanner has returned to Kentucky to put his life back together after a failed five-year relationship.
On his twenty-fifth birthday, Luke meets diminutive Pixie Wilder, a long-time performer at the Gilded Lily. After headliner Ruby Dubonnet doesn't show up, Pixie takes her place as the star of the show—a motive that makes her a suspect in Ruby's disappearance.
Luke reluctantly agrees to help his new-found friend clear her name. He and Pixie set out to find the missing drag queen, and in the process, put themselves in danger.
Author Bio
Michael Rupured writes stories true enough for government work about gay life from the 1960s to today. This life-long Southerner was born in Fayetteville NC, grew up in Lexington KY, and after 18 months in Washington DC, moved to Athens GA where he's lived since 1999. By day, he's senior faculty in the College of Family and Consumer Sciences at the University of Georgia. He's an avid fan of the Georgia Bulldogs, the Kentucky Wildcats, and any team playing the Florida Gators. In his free time, Michael tinkers with his garden, plays with Toodles (his diabetic chihuahua), and keeps up with his many friends around the country. Previous novels include Until Thanksgiving (thriller), No Good Deed (mystery/thriller), Whippersnapper (regional), and Happy Independence Day (historical). Visit his website, follow on Twitter and Goodreads, like his Facebook page, or shoot him a message (mrupured@gmail.com).