Stand-Alone Books
Title: First Comes Marriage
Summary:
A Dreamspun Desires title
Their marriage was supposed to be all business....
When struggling novelist Chris Valentine meets Jesse Donovan, he's interested in a book contract, or possibly a date. The last thing Chris expects is a marriage proposal from New York City's most eligible bachelor!
Jesse's in a pinch: to keep control of his company, he has to marry. So he has valid reasons for offering Chris this business deal. In exchange for living in a gorgeous mansion for a year, playing the doting husband, Chris gets all the writing time he wants and walks away with a million dollar payoff. Surely Chris can handle that. He can handle living with the most handsome and endearing man he's ever met, a man he immediately knows he wants in the worst way and can't have. Or can he?
Release Date: 2016-01-15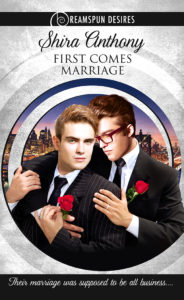 First Comes Marriage
Title: Finder's Keeper
Summary: My first entry in Dreamspinner Press's new Dreamspun Beyond line of contemporary paranormal category romances. When Zane moves into an old gothic brownstone, he discovers the house comes equipped with a caretaker—Kit, who lives in the basement. Zane is immediately drawn to the charming and attractive Kit. But Kit is much more than he seems. He is a two-hundred-year-old half-human, half–red fox spirit who guards a Gate between the mortal and spirit worlds—a fact Zane should recognize, but doesn't. Orphaned at a young age, Zane never learned he comes from a long line of mystical Keepers. Kit needs Zane's help to protect the Gate, but how can he tell Zane of his legacy when that will crush Zane's dreams of traveling the world? If he takes up the mantle, Zane will be bound to the Gate, unable to leave it. But when Zane realizes Kit's true nature, and his own, he'll have to make a choice—fight to protect Kit and the Gate, or deny his destiny and any chance of a future with Kit. Under contract to Dreamspinner Press Release date: September 15, 2017
Release Date: 2017-09-15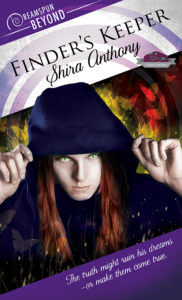 Finder's Keeper
Title: Forgotten Paradise
Summary: It's dangerous diving for secrets. When a mega company threatens to take over his family-owned business, programming prodigy Adam Preston escapes the stress with a much-needed vacation in the Dominican Republic. There he meets attractive, intelligent, insightful Jonah James, a scuba dive instructor, and what starts as a holiday fling soon blossoms into much more. But Jonah has a secret: ten years ago he woke up on an island beach with no idea how he got there… or even who he is. Their paradise may not be as perfect as it seems. When Jonah's memories come crashing back like waves on the sand, will it be Adam clinging to the proverbial life raft, or will the two men find a safe harbor to ride out the storm?
Release Date: 2017-04-15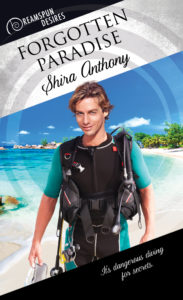 Forgotten Paradise
Title: Take Two
Summary: Lights, camera, action! When Professor Wesley Coolidge accepts a summer job as a historical consultant to a pirate movie being filmed in North Carolina, the last person he expects to bump into is his soon-to-be-ex, movie star Sander Carson. Just like the flamboyant pirate he's playing, Sander, aka Sam Carr, is used to getting what he wants, and he makes it clear he wants Wesley back in his life. Sam lost Wesley when he left their life in New York City behind for a career in Hollywood. But Wesley has finally managed to put the pieces of his heart back together, and he isn't interested in Sam and Wesley: The Sequel. Convincing Wesley to give their relationship a second chance will take much more than Sam's apologies and reminders of good times past. If Sam wants Wesley back, he'll have to show Wesley that they really can sail into the sunset together—a real-life happily-ever-after that won't end once the final credits roll.
Release Date: 2016-09-09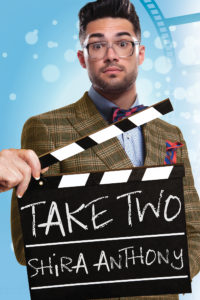 Take Two
Title: A Solitary Man
Summary:
Joint project with Aisling Mancy (aka Cody Kennedy)
Sparks fly when Chance meets tall, sexy Xav at a Wilmington bar and they have the hottest one-nighter of their lives. But Chance doesn't do repeats, Xav seems detached, and they go their separate ways without a word. Later, when closeted Assistant District Attorney C. Evan "Chance" Fairchild meets Dare's Landing's newest deputy sheriff, Xavier "Xav" Constantine, Evan isn't only wary. He's irritated as hell.
Xavier is a former FBI agent turned deputy sheriff who is hot on the trail of a South American child prostitution ring. Evan is fighting to put an end to rampant cocaine trafficking and chafing under the thumb of an election-hungry boss. When someone tries to kill the eleven-year-old witness who holds the key to both their investigations, they're forced to work together as they put their lives on the line to protect him. As Chance and Xav collide in the heat of a sweltering North Carolina summer, dodging bullets and chasing bad guys isn't the only action going on.
Release Date: 2015-11-06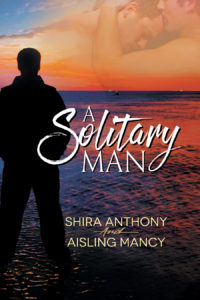 A Solitary Man
Title: The Trust
Summary: Eight years ago, Jake Anders was a college kid from the wrong side of the tracks. Then Trace Michelson recruited him into The Trust, a CIA-backed agency whose "executives" eliminate rogue biotechnology operations. Trace was everything Jake ever wanted in a man: powerful, brilliant, and gorgeous. But Jake never admitted his attraction to his mentor, and Trace always kept Jake at arm's length. Now Trace is dead and Jake is one of The Trust's best operatives, highly skilled and loyal to the organization. But the secret agent has his own secret: six years ago, before he was assassinated, Trace designed a Sim chip containing his memories and experiences—and now that chip is part of Jake. It's just data, designed to augment Jake's knowledge, but when Sim becomes reality, Jake wonders if Trace is still alive or if Jake really is going crazy like everyone claims. He doesn't know if he can trust himself, let alone anyone else. To learn the truth about Trace and the chip, Jake embarks on a dangerous mission—except he's not the only one looking for the information. Some of the answers are locked in his head, and unless he finds the key, he'll be killed for the technology that's become a part of him. Now, more than ever, Jake wishes Trace were here to guide him. Too bad he's dead… right?
Release Date: 2012-06-18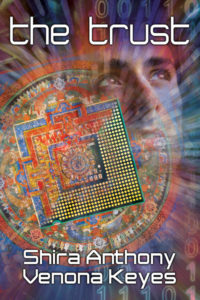 The Trust
Title: The Dream of a Thousand Nights
Summary: Neriah, the crown prince of Tazier, escapes his father's deadly wrath with the help of a Jinn named Tamir. Knowing that the other Jinn would find and punish him for falling in love with a human, Tamir takes Neriah's memories of their brief time together and leaves him with only a jade pendant as a token of his love. Tamir is then stripped of his powers and imprisoned for his crime. Ten years later, Neriah is still on the run from the King's assassins, but each night he dreams of a lover whose face he cannot see and whose name he does not know, but who fills his heart with peace. Tamir, freed at last from his prison cell, poses as a pleasure slave and offers to serve the prince. Although Neriah does not recognize Tamir, he falls in love with the powerless Jinn. But just when Tamir has earned Neriah's trust, he is forced to betray it. There may be no hope of mending their broken relationship, but Tamir is determined to see Neriah on his rightful throne—even if it costs the Jinn his life.
Release Date: 2011-09-26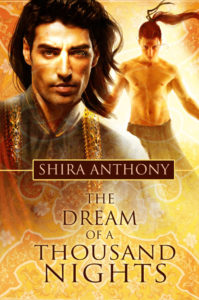 The Dream of a Thousand Nights
Title: Lighting the Way Home
Summary: Co-authored with EM Lynley and part of the Delectable Series of food-themed gay romances from Dreamspinner Press. World-class chef Joshua Golden is homesick for Paris before he even arrives in New York, but he'll endure it—his parents need him to help run the family restaurant while his mother recovers from surgery. Running a place so far beneath his talents is bad enough, but bad turns to worse when Josh discovers his former best friend and lover, Micah Solomon, is living at his parents' house with his ten-year-old son, Ethan. For ten years, Josh has done his best to forget how Micah shattered his heart into tiny pieces. Now Micah's back, fresh out of prison, and helping out at the restaurant. Micah may not be the kind of sous chef Josh is used to, but he is more helpful and supportive than any of the other employees. But Josh finds it hard to keep his distance when, time after time, Micah proves himself a better man than Josh thought. Reluctantly, Josh realizes there is more to Micah than his lousy life choices… but that doesn't mean Josh is ready to forgive him.
Release Date: 2013-03-29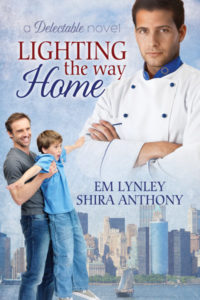 Lighting the Way Home
Title: From The Depths
Summary: An erotic, historical romance set in the heyday of pirates and high seas adventures and written in the style of a classic romance novel. Sarah Morgan is the daughter of a Royal Navy admiral who is kidnapped by pirates and forced to satisfy the twisted desires of the pirate captain, John Taylor. On board, she meets Joshua Samuels, a beautiful American being held as the captain's pleasure slave. The pirate captain, in an effort to secure a business deal with Marcus Lawson, a wealthy plantation owner who fled England years before, allows Lord Lawson the unfettered "use" of his two slaves for two weeks. Expecting the same abusive treatment from her new captor, Sarah discovers the enigmatic Lawson to be far more enticing than she had originally thought. At his island estate, Lawson schools a willing Sarah in the ways of pleasure and pain, even as Sarah struggles to come to grips with her growing love for Joshua. Will Sarah and Joshua find freedom and love, or will fate intervene to separate them forever? WARNING: Contains graphic sexual situations which may be disturbing to some readers, including scenes depicting non-consensual sex, sexual devices, BDSM, anal play, and threesomes.
Release Date: 2013-12-12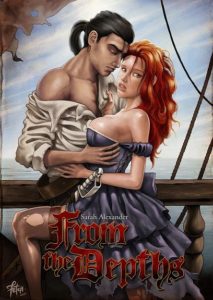 From The Depths
Title: Swann's Revenge
Summary: Can a swan make peace with his ugly duckling past? Chubby geek Jimmy Zebulon's heart broke the day his high school crush, Danny Parker, looked on as his teammates tormented Jimmy. Fifteen years later, Jimmy is long gone, and from his ashes has risen Graham Swann, a movie-star-handsome law firm owner. Graham thinks Jimmy and his past are long forgotten—until attorney Dan Parker shows up for his first day of work. Getting injured playing college ball was the best thing that ever happened to Dan. It turned his future in a better direction and allowed him to emerge from the closet that trapped him. Graham wants to believe his childhood dream can come true, but he can't bring himself to tell Dan who he really is—and their pasts might ruin any chance for a happily ever after….
Release Date: 2018-02-06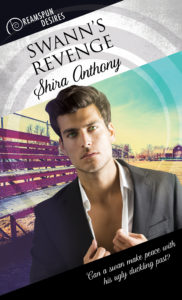 Swann's Revenge
Series: Blood
Title: Blood and Rain
Summary: Adrien Gilbert has spent several lifetimes searching for the love he lost. Born in the 1800s into a clan of fabled vampire hunters, Adrien once wanted nothing more than to tend his family's vineyard in southern France or read a good book. But Adrien's peaceful existence ends abruptly when his older brother, François, is murdered. Bound by his hunter's oath, Adrien sets out on a path that will forever change his life when he agrees to execute his brother's killer, the vampire Charles Duvalier. After months chasing the elusive Charles, Adrien reluctantly makes a bargain with Nicolas Lambert, an ancient vampire. Adrien will escort Nicolas to Paris for his marriage to a rival clanswoman, and Nicolas will help Adrien find Charles. Nicolas's quiet strength and gentle heart soon convince Adrien that Nicolas is nothing like the vampires he has sworn to destroy. As the wedding date draws nearer, a force intent on destroying the fragile peace between the vampire clans threatens to tear apart both the vampire realm and the world of the hunters. To secure both past and future for those he loves, Adrien must find a way to stop the looming war between hunters and vampires. But first he'll have to let Nicolas go. Note:  This is the first in a series of three novels entitled Blood and Rain, Blood and Ghosts, Blood and Eternity. The series it set in France in 1895 and in the present day, and features three MM pairings. Books in this series must be read in order.
Release Date: 2014-12-15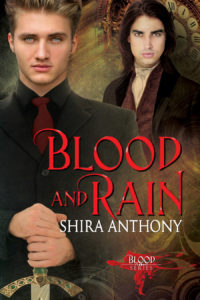 Blood and Rain
Title: Blood and Ghosts
Summary: Sequel to Blood and Rain With vampire Nicolas Lambert's marriage to a rival clanswoman only weeks away, Adrien Gilbert struggles to come to terms with his defeat at the hands of Verel Pelletier, a vampire hunter and an immortal like himself. Adrien and his former teacher, Roland Günter, begin to explore his newly acquired abilities. But without his soul's sword, Adrien flounders. On Nicolas's wedding day, a two-hundred-year old secret is revealed, sending the wedding party into a blazing battle between hunters and vampires. Once again Adrien finds himself facing Pelletier's superior strength. Just as Adrien believes all hope of a future with Nicolas is lost, he finally learns his true gift—he can turn back time. But time travel comes with a high cost. To save Nicolas, Adrien must become strong enough to use his power without descending into madness.
Release Date: 2015-04-20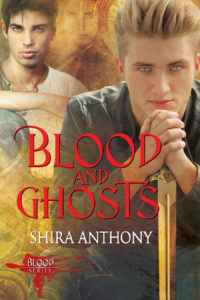 Blood and Ghosts
Title: Blood and Eternity
Summary: Vampire hunter Adrien Gilbert never dreamed he'd fall for his prey or that his love, Nicolas Lambert, would give him the gift of immortality. But when a hunter bent on destroying the truce between vampires and hunters throws the gauntlet at Adrien's feet, Adrien must travel through time to save Nicolas, and with him, the entire vampire race. The time has come to make a choice—one they will live with for eternity. In this final installment in the Blood Trilogy, Adrien and Nicolas must face their greatest enemy in a deadly last confrontation. But to prevail, they'll need to master the enemies within. When Adrien awakens to a future he doesn't recognize, he faces an impossible decision: live a perfect life with Nicolas in a shattered world, or risk everything to repair a broken past. But before he can challenge vampire hunter Verel Pelletier, he must master the demon who lives in his own mind—and learn to control his ability to travel through time. With Nicolas by his side, he prepares for a final battle against a powerful adversary who likes to play games with the past and future. But the price of ensuring a future for their loved ones may be an eternity spent alone.
Release Date: 2018-07-31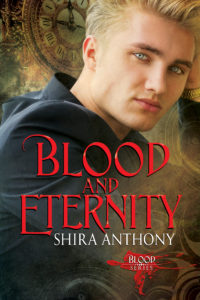 Blood and Eternity
Series: Blue Notes
Title: Blue Notes
Summary: Blame it on jet lag. Jason Greene thought he had everything: a dream job as a partner in a large Philadelphia law firm, a beautiful fiancée, and more money than he could ever hope to spend. Then he finds his future wife in bed with another man, and he's forced to rethink his life and his choices. On a moment's notice, he runs away to Paris, hoping to make peace with his life. But Jason's leave of absence becomes a true journey of the heart when he meets Jules, a struggling jazz violinist with his own cross to bear. In the City of Love, it doesn't take them long to fall into bed, but as they're both about to learn, they can't run from the past. Sooner or later, they'll have to face the music.
Release Date: 2014-02-19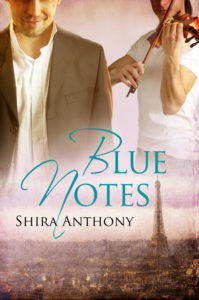 Blue Notes
Title: The Melody Thief
Summary:
Cary Redding is a walking contradiction. On the surface he's a renowned cellist, sought after by conductors the world over. Underneath, he's a troubled man flirting with addictions to alcohol and anonymous sex. The reason for the discord? Cary knows he's a liar, a cheat. He's the melody thief. Cary manages his double life just fine until he gets muggedon a deserted Milan street. Things look grim until handsome lawyer Antonio Bianchi steps in and saves his life. When Antonio offers something foreign to Cary—romance—Cary doesn't know what to do. But then things get even more complicated. For one thing, An tonio has a six-year-old son. For another, Cary has to confess about his alter ego and hope Antonio forgives him. Just when Cary thinks he's figured it all out, past and present collide and he is forced to choose between the family he wanted as a boyand the one he has come to love as a man. Note: Book #2 in the Blue Notes series. The series can be read in any order. Each is a stand-alone story from the same classical music universe.
Release Date: 2012-08-24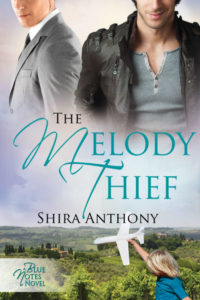 The Melody Thief
Title: Aria
Summary:
Five years after a prestigious scholarship jumpstarted his opera career, Aiden Lind has it all: fame, choice roles, and Lord Cameron Sherrington to share his life with. Maintaining his façade takes effort, but under his poised, sophisticated mask, Aiden is still the insecure kid from rural Mississippi. Then he walks in on Cam with another man, and the illusion of perfection shatters. Philadelphia attorney Sam Ryan never moved on after his partner died, though he tried. Instead of dating, he keeps himself busy with work—but when he unexpectedly runs into ex-lover Aiden while on a rare vacation in Paris, he's inspired to give their love a second chance. First, though, he'll have to get Aiden to forgive him. Because when Sam was still grieving five years ago, he broke Aiden's heart. When rekindled lust blossoms into a true romance, it seems like the start of something wonderful. But Aiden's career has him on the road much of the time, and the physical distance between him and Sam starts translating into an emotional disconnect. If Aiden and Sam can't learn to communicate, their separation may prove more than their love can bear. Note: Book #3 in the Blue Notes series. The series can be read in any order. Each is a stand-alone story from the same classical music universe.
Release Date: 2012-12-10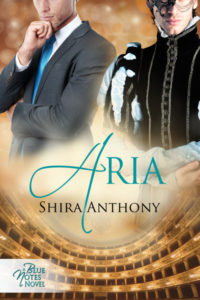 Aria
Title: Prelude
Summary: World-renowned conductor David Somers never wanted the investment firm he inherited from his domineering grandfather. He only wanted to be a composer. But no matter how he struggles, David can't translate the music in his head into notes on paper. When a guest violinist at the Chicago Symphony falls ill, David meets Alex Bishop, a last-minute substitute. Alex's fame and outrageous tattoos fail to move David. Then Alex puts bow to string, and David hears the brilliance of Alex's soul.
David has sworn off relationships, believing he will eventually drive away those he loves, or that he'll lose them as he lost his wife and parents. But Alex is outgoing, relaxed, and congenial—everything David is not—and soon makes dents in the armor around David's heart. David begins to dream of Alex, wonderful dreams full of music. Becoming a composer suddenly feels attainable. David's fragile ego, worn away by years of his grandfather's disdain, makes losing control difficult. When David's structured world comes crashing down, his fledgling relationship with Alex is the first casualty. Still, David hears Alex's music, haunting and beautiful. David wants to love Alex, but first he must find the strength to acknowledge himself.
Release Date: 2013-05-06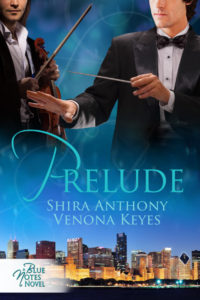 Prelude
Title: Encore
Summary: A Blue Notes Novel
Cool kid violinist Roger Nelson doesn't give a damn about anything. Wannabe conductor John Fuchs is awkward, effeminate, and just figuring out he's gay. Despite their differences, they become friends—then lovers—and after college, they try to make it work. But it's the 1970s, and Roger can't bring himself to admit he's gay. Worse, after his brother is killed in Vietnam, Roger tries to live up to his memory and be the perfect son. Then after suffering one tragedy too many, he makes the biggest mistake of his life: Roger pushes John away. Through the years, they dance around the truth and in and out of each other's lives, never quite able to let go. Twenty years later, Roger still carries the pain of losing his dream of a brilliant career with him, while John is a superstar conductor with a wild reputation. John's off-stage antics get him plenty of attention, good and bad, though deep down, he wants only Roger. Finally determined to hold on to what really matters, Roger asks John for another chance, and when John panics and runs, Roger has to convince him to listen to his heart.
Note: The Blue Notes Series can be read in any order. Each novel is a stand-alone story from the same classical music universe.
Release Date: 2013-11-11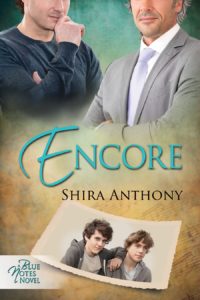 Encore
Title: Dissonance
Summary:
British Lord Cameron Sherrington has hit rock bottom. The love of his life, opera sensation Aiden Lind, is marrying another man, and Cam knows it's his own fault for pushing Aiden away. Then someone tries to set him up and take away his family business. Facing arrest by US authorities on charges of money laundering and with no money to return to London, Cam decides to run. But with no money and no place to stay, it's not exactly the Hollywood thriller he'd imagined. When Cam hears Galen Rusk play in a lonely subway station, he's intrigued. But his assumptions about Galen are all wrong, and their unusual relationship isn't exactly what Cam bargained for. Add to that the nightmares that dog him nightly, and Cam's world is shaken to its core. Cam figures he had it coming to him, that it's all penance due on a life lived without honesty. He just never figured he might not be able to survive it. Note: Blue Notes Series novels are standalone stories, and can be read in any order.
Release Date: 2014-08-08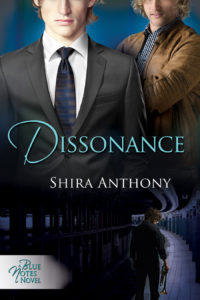 Dissonance
Title: Symphony in Blue
Summary: A Blue Notes Novella (Sequel to Books 1-4 of the Blue Notes Series) Are you a fan of the Blue Notes series? Would you like to know where the couples from the first four books are now? This is your chance to catch up! Aiden and Sam are finally getting married. But when Cary and Antonio's baby daughter makes her appearance a bit earlier than planned, the big reception is put on hold. David Somers normally conducts orchestras, but this time he devotes his energy to "conducting" his friends so that everyone can join him at his Milan villa for a reunion at an intimate Thanksgiving dinner. Sam and Aiden, Jules and Jason, David and Alex, and Cary and Antonio are soon assembled, and each couple shares something they are thankful for. Played out in four movements, this symphony is a celebration of friendship and love, orchestrated by David. Note: This book is meant as a sequel to the first four Blue Notes Series books.  However, some readers have suggested it's a great jumping off point for the series and introduction to the characters.
Release Date: 2013-12-13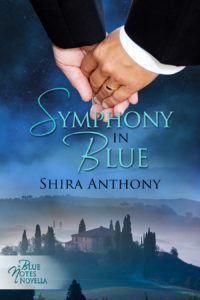 Symphony in Blue
Series: Mermen of Ea
Title: Stealing the Wind
Summary: Taren Laxley has never known anything but life as a slave. When a lusty pirate kidnaps him and holds him prisoner on his ship, Taren embraces the chance to realize his dream of a seagoing life. Not only does the pirate captain offer him freedom in exchange for three years of labor and sexual servitude, but the pleasures Taren finds when he joins the
captain and first mate in bed far surpass his greatest fantasies. Then, during a storm, Taren dives overboard to save another sailor and is lost at sea. He's rescued by Ian Dunaidh, the enigmatic and seemingly ageless captain of a rival ship, the Phantom, and Taren feels an overwhelming attraction to Ian that Ian appears to share. Soon Taren learns a secret that will change his life forever: Ian and his people are Ea, shape-shifting merfolk… and Taren is one of them too. Bound to each other by a fierce passion neither can explain or deny, Taren and Ian are soon embroiled in a war and forced to fight for a future—not only for themselves but for all their kind. WARNING: 18+ adults only, contains scenes of explicit MMM menage (although the pairing is strictly MM), and dubious consent. Would you like to download a free copy of Stealing the Wind? For a limited time, it's available on BookFunnel right here.
Release Date: 2013-08-12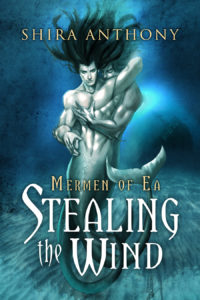 Stealing the Wind
Title: Into the Wind
Summary: Sequel to Stealing the Wind Since learning of his merman shifter heritage, Taren has begun building a life with Ian Dunaidh among the mainland Ea. But memories of his past life still haunt him, and as the threat of war with the hostile island merfolk looms ever closer, Taren fears he will lose Ian the same way he lost his beloved centuries before. Together they sail to the Gateway Islands in search of the fabled rune stone—a weapon of great power the Ea believe will protect them—and Odhrán, the pirate rumored to possess it. After humans attack the Phantom, Taren finds himself washed up on an island, faced with a mysterious boy named Brynn who promises to lead him to Odhrán. But Taren isn't sure if he can trust Brynn, and Odhrán is rumored to enslave Ea to protect his stronghold. Taren will have to put his life on the line to find his way back to Ian and attempt to recover the stone. Even if he does find it, his troubles are far from over: he and Ian are being stalked by an enemy who wants them dead at all costs.
Release Date: 2014-05-05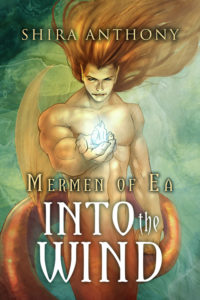 Into the Wind
Title: Running with the Wind
Summary: Sequel to Into the Wind Mermen of Ea: Book Three With the final confrontation between the island and mainland Ea factions looming, Taren and Ian sail with Odhrán to investigate a lost colony of merfolk in the Eastern Lands. Upon their arrival, the King of Astenya welcomes them as friends. Odhrán, however, isn't so quick to trust the descendent of the man who held him prisoner for nearly a decade, especially now that he has someone to cherish and protect—the mysterious winged boy he rescued from the depths. Armed with the knowledge he believes will save the Ea, Taren returns to the mainland. With Ian at his side, Taren convinces Vurin that their people must unite with their island brethren before it's too late. When Seria and his men attack, Taren must call upon the ancient power of the rune stone to protect his comrades. But using the stone's immeasurable power commands a hefty price—and Ian fears that price is Taren's life.
Release Date: 2015-06-08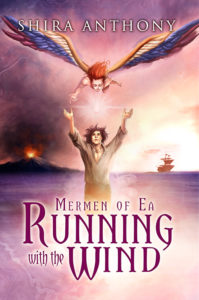 Running with the Wind