Title: First Comes Marriage
Summary:
A Dreamspun Desires title
Their marriage was supposed to be all business....
When struggling novelist Chris Valentine meets Jesse Donovan, he's interested in a book contract, or possibly a date. The last thing Chris expects is a marriage proposal from New York City's most eligible bachelor!
Jesse's in a pinch: to keep control of his company, he has to marry. So he has valid reasons for offering Chris this business deal. In exchange for living in a gorgeous mansion for a year, playing the doting husband, Chris gets all the writing time he wants and walks away with a million dollar payoff. Surely Chris can handle that. He can handle living with the most handsome and endearing man he's ever met, a man he immediately knows he wants in the worst way and can't have. Or can he?
Release Date: 2016-01-15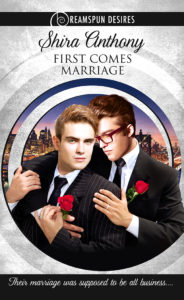 First Comes Marriage