Title: First Comes Marriage
Summary:
A Dreamspun Desires title
Their marriage was supposed to be all business....
When struggling novelist Chris Valentine meets Jesse Donovan, he's interested in a book contract, or possibly a date. The last thing Chris expects is a marriage proposal from New York City's most eligible bachelor!
Jesse's in a pinch: to keep control of his company, he has to marry. So he has valid reasons for offering Chris this business deal. In exchange for living in a gorgeous mansion for a year, playing the doting husband, Chris gets all the writing time he wants and walks away with a million dollar payoff. Surely Chris can handle that. He can handle living with the most handsome and endearing man he's ever met, a man he immediately knows he wants in the worst way and can't have. Or can he?
Release Date: 2016-01-15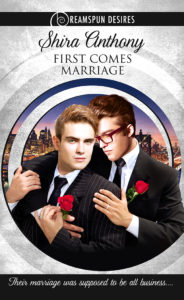 First Comes Marriage
Title: Take Two
Summary: Lights, camera, action! When Professor Wesley Coolidge accepts a summer job as a historical consultant to a pirate movie being filmed in North Carolina, the last person he expects to bump into is his soon-to-be-ex, movie star Sander Carson. Just like the flamboyant pirate he's playing, Sander, aka Sam Carr, is used to getting what he wants, and he makes it clear he wants Wesley back in his life. Sam lost Wesley when he left their life in New York City behind for a career in Hollywood. But Wesley has finally managed to put the pieces of his heart back together, and he isn't interested in Sam and Wesley: The Sequel. Convincing Wesley to give their relationship a second chance will take much more than Sam's apologies and reminders of good times past. If Sam wants Wesley back, he'll have to show Wesley that they really can sail into the sunset together—a real-life happily-ever-after that won't end once the final credits roll.
Release Date: 2016-09-09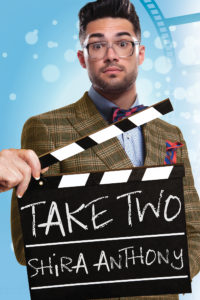 Take Two