Today, I'm sharing my recent Blue Notes Holiday 2013 Blog Tour post on Mrs. Condit's and Friends about the inspiration for the Blue Notes Series and Symphony in Blue, which will be released tomorrow, Christmas Day!  You can still pick it up on pre-order for 25% off (sale runs through the 28th) at Dreamspinner Press.
Merry Christmas to those who are celebrating!  Enjoy and be safe! -Shira
******
Reblogged from Mrs. Condit's and Friends
Music is in my blood.  In my bones.  In my heart.  My soul.  And yet when I published my
first book, there was no music in it.  The Dream of a Thousand Nights was fantasy and fairy tale.  Escapism.  There was a reason I never wrote about music:  I wasn't ready to.  The pain of giving up my career as an opera singer was still too fresh, too entangled with deep emotions.  For nearly ten years, I avoided classical music.  Didn't talk about it, didn't listen to it.  Then came a trip to Paris in 2009, and everything changed for me…
Let me backtrack a bit.  I think everyone knew I would be a musician, even from an early age.  I played violin starting at about age 5, studied theory and Dalcroze/Eurythmics before that.  I sang.  All the time.  I sang in school choirs, sang in the Cleveland Orchestra Children's Chorus, sang in musicals (my first was playing Buttercup in HMS Pinafore in 6th grade), then sang professionally for nearly 14 years.  But I gave it up because I wanted to have a family and I wanted a job that was for more than just once or twice a year (and that required me to work in jobs I hated in between to make ends meet).  You can hear what I sounded like by clicking here.  I knew giving up singing was the right thing for me, but I had no idea how much it would hurt.
The trip to Paris was an epiphany for me: that moment where you understand something you hadn't understood before.  I realized that there was a way for me to connect with my musical past and still move forward.  In that moment, the Blue Notes Series was born.  I imagined an American, Jason Greene, who runs away from his life in the U.S. to spend part of the winter in Paris.  And in so many ways, Jason was me.  Jason's grief over having given up his music haunts him until he learns to make peace with it many years later.  In Paris.  Add a sexy, talented French violinist, Jules Bardon, and you have the makings of the original book in the series, Blue Notes.
Although I never set out intending to write a series, by the time I got about halfway through writing Blue Notes, I could already imagine more characters.  Each book in the
series has been a chance for me to connect with a particular aspect of performing and music.  In Encore, the latest in the series, I've reconnected with some of the men I knew when I sang professionally.  Wonderful, beautiful, talented gay men who were forced to live their lives in the closet.  Men who suffered and died of AIDS.  Men who managed to survive in a world that treated them badly and cast them out for being themselves.  Encore is painful in parts, but it's also a story of hope and true love.  It takes conductor John Fuchs and violinist Roger Nelson years to find their happiness, but they do.  The book is dedicated men like Roger and John.
I'm celebrating the holidays with another entry in the series. I loved writing this book because I got to revisit all the couples in the first 4 books of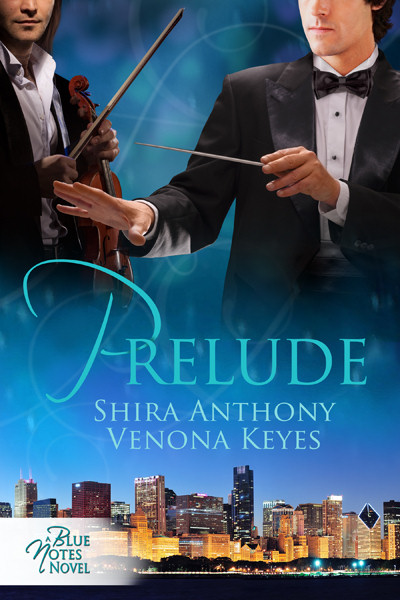 the series and share with the readers the characters' continuing happily-ever-afters.  Symphony in Blue, which releases on Christmas Day, will be my 10th Dreamspinner Press release!  It's written in the form of a classical music CD, complete with biographies and liner notes.  It has "movements" in which each couple shares a story from their lives together when they all come together at conductor David Somers's Italian villa over Thanksgiving.  The fact that it's David (Prelude) who conducts this symphony of celebration, given David's history before he met Alex Bishop, is a celebration in and of itself.
The Blue Notes Series books are about real men in real relationships, with real problems.   Are you looking for sexy hot romances with fluffy scenes?  I think you'll like the Blue Notes books.  But if you're also looking for something more—for something more real than Cinderfella and his prince? I think you'll enjoy these stories about making love work over time and through obstacles.  You can find all of my Dreamspinner Press books by clicking here.  Want to read more about me and about my books, including free fiction and excerpts?  Check out my website, www.shiraanthony.com.
Don't forget to enter the Blue Notes Holiday 2013 Blog Tour giveaway by
clicking here (Rafflecopter).  There are plenty of ways to enter, and you can enter more than once by commenting, tweeting, buying books, and liking pages.  I'll be drawing winners on New Year's Eve at midnight!  Prizes include a Kindle
loaded with books, a sterling silver music themed necklace, and books! Good luck! –Shira
******
Excerpt (Symphony in Blue):
DAVID TAPPED his cellphone, shoved it in his pocket, and rubbed the bridge of his nose.
"Something ruffle the maestro?" Alex grinned up at him from the couch, his bare feet tucked underneath him, a pile of staff paper scattered about the floor and coffee table. He'd printed out a score for a new composition and managed to knock it off the printer tray. Of course, all the page numbers at the bottom of the sheets were cut off. Damn thing was at least thirty pages and would be a nightmare to organize.
"Nothing that can't be managed. Unlike your score." David raised an eyebrow and Alex saw the ghost of a grin on David's face. "You could just reprint it, you know."
"What? And waste paper?"
"You're stubborn," David said as he picked up several of the pages and set them on the coffee table before joining Alex on the couch. When Alex said nothing, David leaned over and feathered several kisses over Alex's neck. "Delightfully so, of course. But stubborn nonetheless."
Alex sighed contentedly and pushed the rest of the music onto the floor. Fine. He'd reprint the damn thing. Later. "Who was on the phone?"
"Aiden." David spoke the name with his lips so close to Alex's ear that Alex nearly gasped. David's voice just did that to Alex—that sexy baritone seemed to resonate through every part of his body. Alex was pretty sure David knew what it did to him too.
"Aiden? I thought he and Sam were in Australia."
David pulled away and offered Alex a sardonic eyebrow. "Austria."
"Oh, come on!" Alex laughed. "You know I can hardly keep track of my own schedule. Now you expect me to keep up with his?"
"Not even the correct continent." David went back to kissing him.
"What was he calling about?" Anything to keep David focused on his neck.
"The party in Connecticut is off. They're also postponing the civil ceremony in New York for now."
Alex shot up off the couch. "What? But we've been planning the reception for six months now! It's only two weeks away. What the hell happened? Are they okay? I mean…. Shit. You know what I mean."
David smiled—a strange expression for someone who'd just learned that he'd wasted four months arranging the party to celebrate Aiden and Sam's wedding. Caterers, musicians, guests, and a dozen different schedules to coordinate.
"Okay. Fess up. Why are you smiling?"
"Aiden and Sam are fine. They're just postponing it." David appeared entirely calm. Too calm. Happy, even?
"Postponing? They've been doing that for two years now."
"Three."
"Fine. Three years. So why are you happy about it?" Alex pressed. Of course, David was yanking his chain, but he liked that. Anyone who thought David Somers didn't have a sense of humor simply didn't know him.
"I'm happy," David said as his eyes brightened, "because there's a good reason for it. In fact, there's a wonderful reason for it."
Alex laughed. "What reason would that be?"
"Who might be the more appropriate way of say—"
"David," Alex warned.
"Graziella Michaela Redding."
"Graziella? You mean…."
"Mother and child doing quite well, I'm told." David grinned outright this time.
"Cary and Antonio's baby?"
"Born last night. Almost five pounds. Three weeks early but doing well." David stood up and wrapped his arms around Alex's waist. "A good reason to postpone a wedding, don't you think?"
"The best." Alex kissed David. "Should we plan a visit in a few weeks?"
"A few weeks?" David's sly grin made Alex chuckle. "Just because we can't have the party to celebrate doesn't mean we can't take advantage of the opening in everyone's schedules."
"What did you have in mind?"
"Thanksgiving in Milan. It's been years since we've been able to get everyone together."
"The villa?" David's Italian villa was certainly large enough. "But—"
"Is that a problem for you? Last I looked at your schedule, your next performance is in Buenos Aires in three weeks." David nipped at Alex's earlobe.
"No… it's not… ah…. Shit, David, I can't think straight when you do that!" Alex shivered and closed his eyes. "And no. No problem for me. But didn't you give the staff at the villa the entire month off?"
Alex knew David had completely forgotten about that particular detail. He frowned, then said blithely, "We'll just have to do it ourselves. Jules and I can handle the cooking. You and Jason can get the placed opened up. Rachel can help you with the rooms."
"You're serious about this?"
"Am I ever not?" David pulled at Alex's earlobe with his teeth. "I'll call the travel agent and look into rebooking all the air travel."
"Travel agent?"
Another kiss, a nip, and then: "The travel agent. Too complicated to handle that much rebooking online and you needn't trouble yourself with that. Just call Jules and Jason and let them know we'll meet them in Milan on Saturday. I'll text them the flight information as soon as I have it."
"Ah…. Okay. Sure. Jules and Jason." Alex could handle that. He'd been meaning to call Jules to see how the Blue Notes album was coming along anyhow. He'd joined Jules and the other members of the trio on several of the tracks when he'd been in Paris three weeks before.
"Good." David brushed his lips against Alex's. "And one more thing."
"Hmm?" Focus, Bishop, focus!
"This." David pushed Alex onto the couch and began to unbutton his shirt. "First things first. Always."
You can purchase the Blue Notes Series books on Amazon, Barnes & Noble, AllRomanceEbooks, and on the Dreamspinner Press website.
Encore: http://www.dreamspinnerpress.com/store/product_info.php?products_id=4353&cPath=55_484
Symphony in Blue: http://www.dreamspinnerpress.com/store/product_info.php?products_id=4479&cPath=55_484
Blue Notes Holiday 2013 Blog Tour stops:
November 11th (release day – Encore):  Scattered Thoughts and Rogue Words (Melanie Marshall)
November 12th: Live Your Life, Buy the Book
November 14th: Michael Rupured's Blog
November 15th: Joyfully Jay (Blue Notes Cover Art – Interviews with the Artists)
November 18th: Elin Gregory's blog
November 22nd: Aisling Mancy's blog
November 26th: Andrew Q. Gordon's blog
December 6th: Oscar's Bruised Petals (Sandra Garcia's blog)
December 10th: Brilliant Disguise (Tali Spencer's blog)
December 13th: Lily Sawyer's Blog
December 16th: Rebecca Cohen's blog
December 20th: Purple Rose Teahouse (Charlie Cochet's blog)
December 23rd: Mrs. Condits and Friends
December 25th: Symphony in Blue Release Day Party at Melanie Marshall's Scattered Thoughts and Rogue Words
December 26th: Book Suburbia
December 27th:  Helen Pattskyn's blog