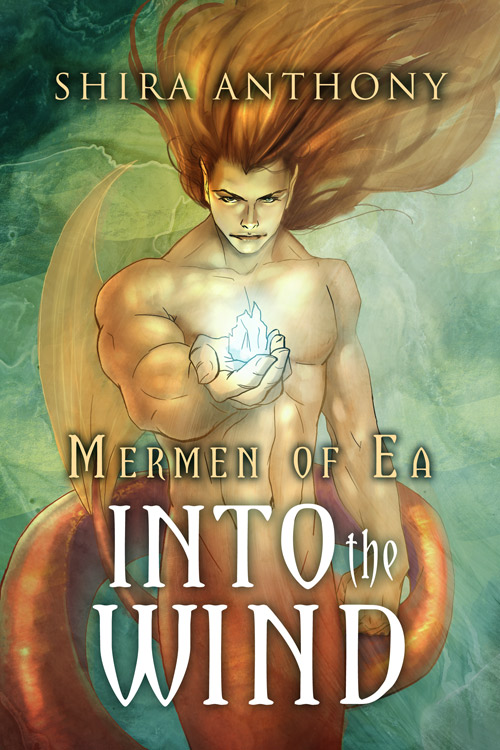 Check out the amazing cover of Into the Wind by cover artist Anne Cain!  I think it's stunning. Even better? You can now pre-order your very own copy of the book Dreamspinner Press by clicking here: http://www.dreamspinnerpress.com/store/product_info.php?products_id=4975
Don't forget that I'm still running a pre-release giveaway.  Up for grabs?  Winner's choice of a cool, nautical leather wrap watch, or a signed paperback copy of Stealing the Wind, the first book in the Mermen of Ea Series. US readers only for this one, please.  I promise I'll have some goodies for non-US readers in upcoming giveaways, though.
How do you enter? Leave a comment on this blog post
and tell me what you like best about the ocean (feel free to let your imaginations run wild!).  I'll choose a winner on May 4th from all the entries here.
Into the Wind is the direct sequel to Stealing the Wind, and takes up the story of Ian Dunaidh and Taren Laxley, shape-shifting mermen (Ea).  There are a few surprises in this book I hope you'll enjoy, and the book starts off with a bang (literally), as the Phantom is attacked on her way to
the Gateway Islands, where the crew hoped to locate the cruel pirate, Odhrán.
Here's the blurb: Since learning of his merman shifter heritage, Taren has begun building a life with Ian Dunaidh among the mainland Ea. But memories of his past life still haunt him, and as the threat of war with the hostile island merfolk looms ever closer, Taren fears he will lose Ian the same way he lost his beloved centuries before. Together they sail to the Gateway Islands in search of the fabled rune stone—a weapon of great power the Ea believe will protect them—and Odhrán, the pirate rumored to possess it.
After humans attack the Phantom, Taren finds himself washed up on an island, faced with a mysterious boy named Brynn who promises to lead him to Odhrán. But Taren isn't sure if he can trust Brynn, and Odhrán is rumored to enslave Ea to protect his stronghold. Taren will have to put his life on the line to find his way back to Ian and attempt to recover the stone. Even if he does find it, his troubles are far from over: he and Ian are being stalked by an enemy who wants them dead at all costs.
Want to read an excerpt from Chapter One? Click here. So go snag yourself a copy at Dreamspinner Press and don't forget to enter the pre-release drawing by commenting on this post! -Shira