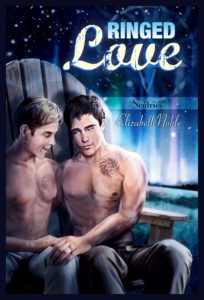 Please welcome the wonderful Elizabeth Noble who is visiting to share an excerpt from her Sentries series! Have I mentioned that I LOVE this series? Yep. I have now! – Shira
******
Hello and thank you Shira for hosting me today. The first chapter of Ringed Love is posted on Dreamspinner Press, so over the next two weeks I'll be offering the first one hundred or so words of each subsequent chapter.
Today's excerpt is from chapter 13, the final chapter. Thank you to everyone who has joined along during this tour!
Excerpt:
Nick stood quietly to the side and watched the scene before him. Todd had a map spread out on the big table in Nick's clinic. That was the best place to gather the area sentries when they all had to meet.
"Listen up, boys and girls, here's the plan." Todd pointed to different areas on the map as he talked.
"There were three bad earthquakes in less than two weeks, and things are getting bad down there."
He nodded to one group of three people. Kids, really. When had Nick gotten so old that young men and women in their twenties and early thirties with families of their own seemed like kids?

Blurb: New Colorado Protectorate fell with the assassination of Chancellor Clarke. Like many others, Todd and Nick Ruger left the land of their birth and made a home to the north in Yellowknife. Their world was ever changing. The time came to say a sad farewell to some of their friends and loved ones, but they were taken in with open arms by others and in turn offered shelter to yet more. Through the years they remained steadfast in their duty as sentries to protect and defend those that needed it the most.
Time marches on but through it all they hold each other dear and cherish the love they've shared. There are still angry ghosts, Windigos and water spirits to contend with. Their lives change, offering them new roles. When the time comes, they do what sentries have done for generations prior and teach others the skills to carry on as sentries. The Rugers lives were rich and their hearts full with their devotion and love for each other. The tradition of the sentries lived on forever. It was the legacy of Todd and Nick Ruger. That was the way it was always meant to be.
Buy Link: http://bit.ly/1pVSbMl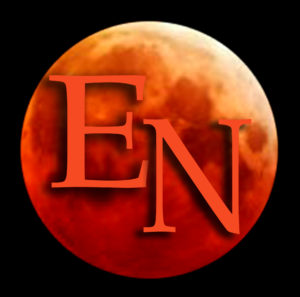 Bio: Elizabeth Noble started telling stories before she actually knew how to write, and her family was very happy when she learned to put words on a page. Those words turned into books and fanfiction that turned into a genuine love of M/M romance fiction. Being able to share her works with Dreamspinner is really a dream come true. She has a real love for a good mystery complete with murder and twisty plots as well as all things sci-fi, futuristic, and supernatural and a bit of an unnatural interest in a super-volcano in Wyoming.
Elizabeth has three grown children and is now happily owned by an adorable mixed breed canine princess and her sidekick, tabby cat.  She lives in her native northeast Ohio, the perfect place for gardening and winter and summer sports (go Tribe and Cavs!) and stargazing all year long. When she's not writing she's working as a veterinary nurse, so don't be surprised to see her men with a pet or three who are a very big part of their lives.
Elizabeth received several amateur writing awards. Since being published two of her novels have received honorable mentions in the Rainbow Awards. Her novel Jewel Cave was a runner up in the 2015 Rainbow awards in the Gay Mystery/Thriller category.
Website:  http://www.elizabeth-noble.com
Facebook: https://www.facebook.com/elizabeth.noble.77
Goodreads: https://www.goodreads.com/author/show/4781553.Elizabeth_Noble

Tour Stops:
May 16 Kris Bethke
May 17 Susan Laine
May 18 Meg Harding
May 19 Jamie Lynn Miller
May 20 Charlie Descoteaux
May 23 Grace R. Duncan
May 24 Sarah Madison
May 25 Rick R. Reed
May 26 Skylar M. Cates
May 27 Lou Sylvre
May 30 Ki Brightly
May 31 Shira Anthony