Title: Running with the Wind
Summary: Sequel to Into the Wind Mermen of Ea: Book Three With the final confrontation between the island and mainland Ea factions looming, Taren and Ian sail with Odhrán to investigate a lost colony of merfolk in the Eastern Lands. Upon their arrival, the King of Astenya welcomes them as friends. Odhrán, however, isn't so quick to trust the descendent of the man who held him prisoner for nearly a decade, especially now that he has someone to cherish and protect—the mysterious winged boy he rescued from the depths. Armed with the knowledge he believes will save the Ea, Taren returns to the mainland. With Ian at his side, Taren convinces Vurin that their people must unite with their island brethren before it's too late. When Seria and his men attack, Taren must call upon the ancient power of the rune stone to protect his comrades. But using the stone's immeasurable power commands a hefty price—and Ian fears that price is Taren's life.
Release Date: 2015-06-08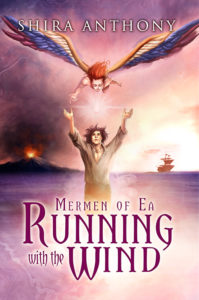 Running with the Wind
Title: Stealing the Wind
Summary: Taren Laxley has never known anything but life as a slave. When a lusty pirate kidnaps him and holds him prisoner on his ship, Taren embraces the chance to realize his dream of a seagoing life. Not only does the pirate captain offer him freedom in exchange for three years of labor and sexual servitude, but the pleasures Taren finds when he joins the
captain and first mate in bed far surpass his greatest fantasies. Then, during a storm, Taren dives overboard to save another sailor and is lost at sea. He's rescued by Ian Dunaidh, the enigmatic and seemingly ageless captain of a rival ship, the Phantom, and Taren feels an overwhelming attraction to Ian that Ian appears to share. Soon Taren learns a secret that will change his life forever: Ian and his people are Ea, shape-shifting merfolk… and Taren is one of them too. Bound to each other by a fierce passion neither can explain or deny, Taren and Ian are soon embroiled in a war and forced to fight for a future—not only for themselves but for all their kind. WARNING: 18+ adults only, contains scenes of explicit MMM menage (although the pairing is strictly MM), and dubious consent. Would you like to download a free copy of Stealing the Wind? For a limited time, it's available on BookFunnel right here.
Release Date: 2013-08-12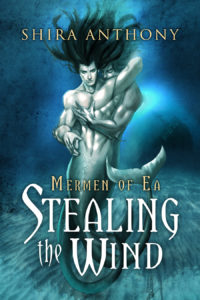 Stealing the Wind