Mermen of Ea Trilogy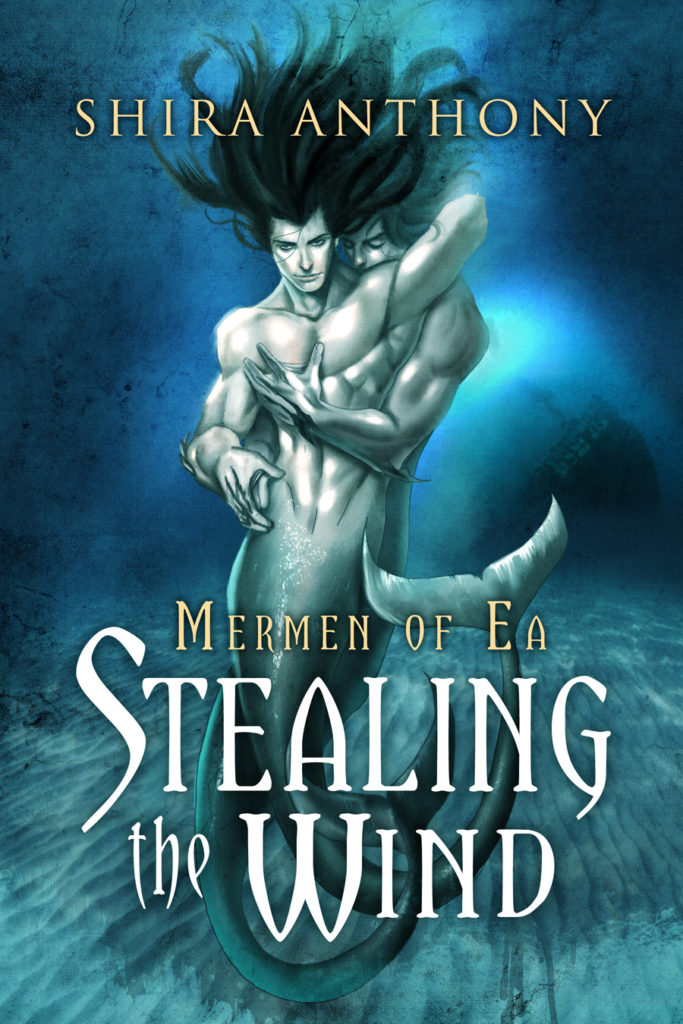 Taren Laxley has never known anything but life as a slave. When a lusty pirate kidnaps him and holds him prisoner on his ship, Taren embraces the chance to realize his dream of a seagoing life. Not only does the pirate captain offer him freedom in exchange for three years of labor and sexual servitude, but the pleasures Taren finds when he joins the
captain and first mate in bed far surpass his greatest fantasies.
Then, during a storm, Taren dives overboard to save another sailor and is lost at sea. He's rescued by Ian Dunaidh, the enigmatic and seemingly ageless captain of a rival ship, the Phantom, and Taren feels an overwhelming attraction to Ian that Ian appears to share. Soon Taren learns a secret that will change his life forever: Ian and his people are Ea, shape-shifting merfolk… and Taren is one of them too. Bound to each other by a fierce passion neither can explain or deny, Taren and Ian are soon embroiled in a war and forced to fight for a future—not only for themselves but for all their kind.
WARNING: 18+ adults only, contains scenes of explicit MMM menage (although the pairing is strictly MM), and dubious consent.
Would you like to download a free copy of Stealing the Wind? For a limited time, it's available on BookFunnel right here.
Reviews:
Josiegoodreads

on

Mrs. Condits and Friends

wrote:
"Stealing the Wind is a superb novel, full of intrigue, mystery and adventure. The writing is smooth and flows along beautifully, the characters are rich and colorful, the world Shira Anthony creates is mysterious and dark, full of legends and prophecy. The plot draws the reader along, never letting up, teasing with its hints of what's to come. I found myself glued to my Kindle not wanting to do anything but read, yet also not wanting to finish too quickly, I wanted to savor the story, revel in the universe unfolding around me."
Pixie

on

MM Good Book Reviews

wrote:
"I recommend this to those who love mermen, an interesting in-depth storyline, fantasy, hot sex, great characters and an ending that has you compelled to read more."
Whitt

on

Live Your Live Buy the Book

wrote:
"The underwater imagery was beautiful. I wanted the couple to be together and hated the bad guy. This was a majestic read and I'd recommend it to fantasy lovers." -
Jay

on

Joyfully Jay

wrote:
"I really loved this book and am so excited for the rest of the series. Romantic and sexy and really wonderful world building.  Anthony gives us a rich and exciting story here and a great set up for the remaining books. I can't wait for more and highly recommend this one."