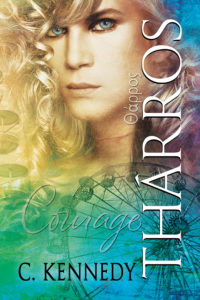 Release Day! Thárros by C. Kennedy is Out!
Θάρρος
Thárros. Greek. Meaning courage
Courage. n. /ˈkərij/
1. The ability to do something that frightens one.
2. Strength in the face of fear, pain, or grief.
~*~
Courage is resistance to fear,
mastery of fear,
not the absence of fear. ~Mark Twain
High school senior Michael Sattler leads a charmed life. Almost. He has great friends, parents who love him just the way he is, and he was a champion hurdler until someone took out his knee when they kidnapped his boyfriend. Yet, Michael is determined to make the USATF tryouts in spite of his injuries.
Christy Castle is Michael's entire world. Healing from years of abuse, his abduction by a predator has left him hiding a new secret as he tries to start his life again. Together, Michael and Christy work to recover from their wounds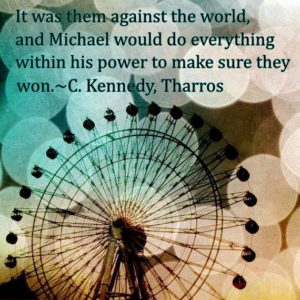 in time to make prom and graduate high school. To complicate matters, Christy is astonished to learn a fellow victim from his native Greece has survived. Christy will stop at nothing to bring him to the US to keep him safe.But the prosecution of Christy's kidnapper looms large in their futures and the struggle to return to normal only worsens. Christy's past continues to haunt them and, when the prosecution turns ugly and Christy's new life is torn apart, only their unrelenting courage and determination can save them from the nightmare that threatens to destroy their future together.
Read Chapter One or Read en français

About Cody
Cody is an award-winning author who lives, most of the time, on the West Coast of the United States. Raised on the mean streets and back lots of Hollywood by a Yoda-look-alike grandfather, Cody doesn't conform, doesn't fit in, is epic awkward, and lives to perfect a deep-seated oppositional defiance disorder. In a constant state of fascination with the trivial, Cody contemplates such weighty questions as If time and space are curved, then where do all the straight people come from? When not writing, Cody can be found taming waves on western shores, pondering the nutritional value of sunsets, appreciating the much-maligned dandelion, unhooking guide ropes from stanchions, and marveling at all things ordinary. Among many other awards, Omorphi was a runner up in the 2014 Rainbow Awards, and Slaying Isidore's Dragons was a finalist in the 2015 Rainbow Awards. Cody does respond to blog comments and emails because, after all, it is all about you, the reader.