With the final Mermen of Ea Series book, Running with the Wind, to be released on June 8th, and the cover reveal only 2 days away (Thursday, May 7th!), I wanted to share some more amazing artwork with you. This is the fabulous Ea universe map Dreamspinner Press created by artist Margaret Warner. The map will be included in Running with the Wind.
For those of you who have read the first 2 installments in the series, Stealing the Wind and Into the Wind, you'll recognize the Kingdom of Derryth, where Taren starts his journey when he's kidnapped by the captain of the Sea Witch and finds himself at sea. You'll also find the Luathan Islands and the tiny island of Ea'nu, where most of the merfolk are hidden behind enchantments. The map also shows the location of the fabled Eastern Lands and the country of Astenya, the land of the high mountains, where much of the final book takes place.
I grew up with my father reading the Lord of the Rings stories to me and my sister, and I remember being enthralled by the maps of Middle Earth on the inside covers. As I was working on the Mermen of Ea Series, I created my own map so I would be able to move the characters about and not get completely turned around. Just for giggles, here's my map, which Margaret turned into the beauty you see above.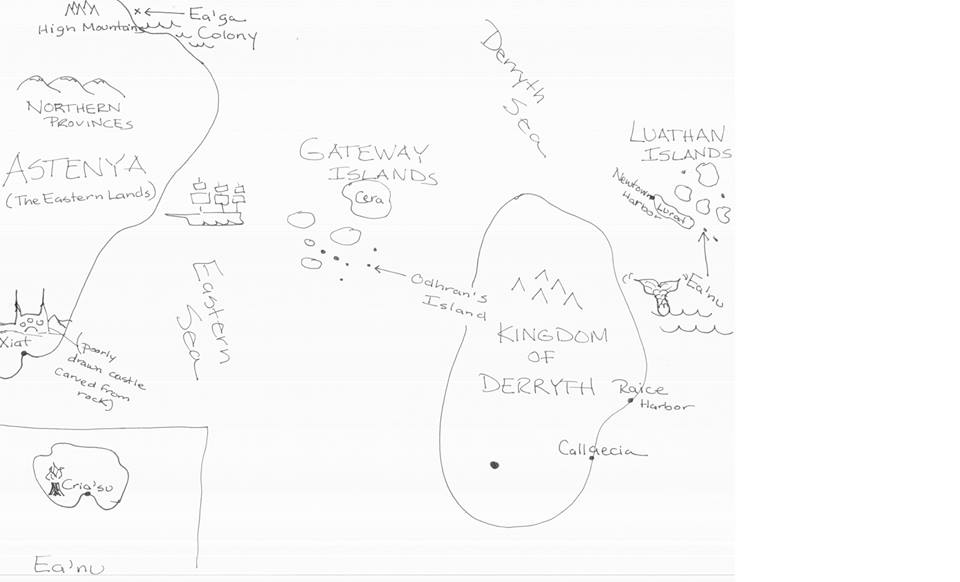 I hope you'll join Taren and Ian in this final series book as they fight for the survival of their people. And if you've been waiting to start the series because you wanted to wait until it's finished, the wait is over! Happy reading! -Shira
******
Blurb:
Sequel to Into the Wind
With the final confrontation between the island and mainland Ea factions looming, Taren and Ian sail with Odhrán to investigate a lost colony of merfolk in the Eastern Lands. Upon their arrival, the King of Astenya welcomes them as friends. Odhrán, however, isn't so quick to trust the descendent of the man who held him prisoner for nearly a decade, especially now that he has someone to cherish and protect—the mysterious winged boy he rescued from the depths.
Armed with the knowledge he believes will save the Ea, Taren returns to the mainland. With Ian at his side, Taren convinces Vurin that their people must unite with their island brethren before it's too late. When Seria and his men attack, Taren must call upon the ancient power of the rune stone to protect his comrades. But using stone's immeasurable power commands a hefty price—and Ian fears that price is Taren's life.
Buy links (active late on May 6th):
eBook: http://www.dreamspinnerpress.com/store/product_info.php?products_id=6455
Paperback: http://www.dreamspinnerpress.com/store/product_info.php?products_id=6456