Stealing the Wind, the first book in the Mermen of Ea Series is now available in audiobook format! The timing is perfect, since the final installment in the series, Running with the Wind, will be released on June 8th.
I love the narrator for the series, Michael Stellman. He really brings the characters to life, and I love the great accents he uses for some of the pirates, in particular. His voicing of Taren is perfect–vulnerable and naive. I'm enjoying listening to the complete recording. You can hear an excerpt by clicking here. You'll see a "Listen: Play Sample" link right below the book cover.
Just a reminder that you can pre-order the final book in the series at Dreamspinner Press and AllRomanceEbooks right now. I do promise a hard-won HEA, of course, since I don't write books without HEAs. But that's all I'll say! You can read excerpts from the first two books here on my website, or stay tuned for excerpts from the final book in the series!
The Running with the Wind blog tour starts on June 1st, so stay tuned. The grand prize is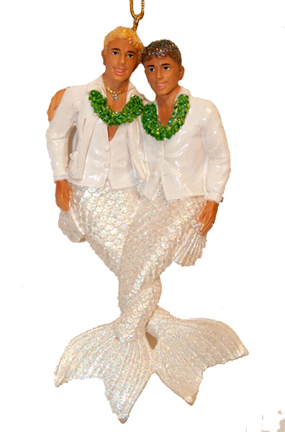 a December Diamonds mermen marriage ornament, and there are other fun prizes too! You can find the giveaway here: http://www.rafflecopter.com/rafl/display/cf0ba94912/?
For those of you in Raleigh, North Carolina this weekend, I'll be manning a table with authors Venona Keyes and Jordan Hawk at Animazement. Feel free to stop by! We've got lots of great paperback books for a big discount off retail. Or just say hello and pick up some fun swag! Have a great weekend. -Shira
******
Blurb: Taren Laxley has never known anything but life as a slave. When a lusty pirate kidnaps him and holds him prisoner on his ship, Taren embraces the chance to realize his dream of a seagoing life. Not only does the pirate captain offer him freedom in exchange for three years of labor and sexual servitude, but the pleasures Taren finds when he joins the captain and first mate in bed far surpass his greatest fantasies.
Then, during a storm, Taren dives overboard to save another sailor and is lost at sea. He's rescued by Ian Dunaidh, the enigmatic and seemingly ageless captain of a rival ship, the Phantom, and Taren feels an overwhelming attraction to Ian that Ian appears to share. Soon Taren learns a secret that will change his life forever: Ian and his people are Ea, shape-shifting merfolk…and Taren is one of them, too.
Bound to each other by a fierce passion neither can explain or deny, Taren and Ian are soon embroiled in a war and forced to fight for a future – not only for themselves but for all their kind.