Just sharing the love… All my books are 30% off through May 17th at the Dreamspinner Press online store! So if you've been waiting to start the Mermen of Ea Series, this is a perfect time to pick up both books for just about what you'd normally pay for one. You can find all my books here: http://www.dreamspinnerpress.com/store/index.php?cPath=55_484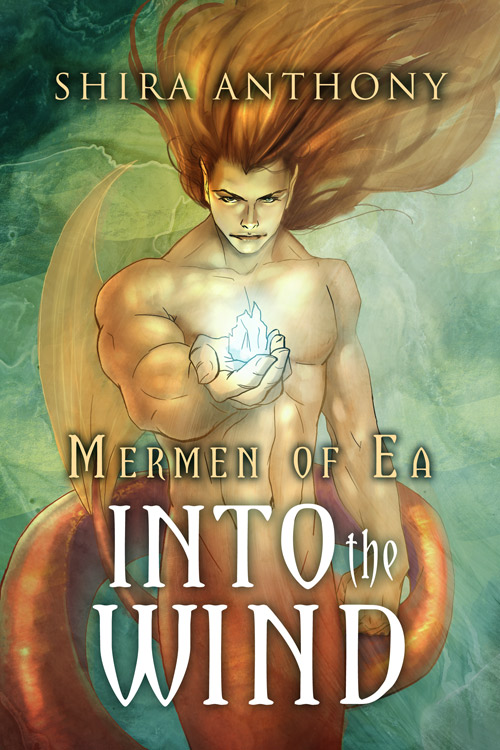 Also happening now, the Into the Wind Blog tour is getting ready to wrap, although the blog tour giveaway will still be active until the end of the month. Here's the link to the Rafflecopter  giveaway widget: http://www.rafflecopter.com/rafl/display/cf0ba93/
Or enter right here on my blog if your device permits:
Up for grabs? Some really cool gifts, including the grand prize of a stunning unisex Ea pendant, handmade by artist Martin Brodour. Also to be won, a cool Mermen of Ea gift basket that includes an autographed copy of the first book, Stealing the Wind, a great cover art t-shirt, and lots of other fun, nautical themed goodies! For non-US residents, I've got several prizes, including a $10 Dreamspinner Press gift certificate you can use to buy any Dreamspinner books!  The contest ends on May 31st at midnight.
Here's a list of all the great blogs I've been visiting along the way:
5/5 Release Day – Smoocher's Voice  (Interview with Shira)
5/6 Scattered Thoughts and Rogue Words (Inspiration for the Mermen of Ea Series)
5/8 Mrs. Condits and Friends (Merman Sex 101)
5/9 Tali Spencer's Brilliant Disguise (Series and Worldbuilding: Recreating the Merman Myth)
5/10 Prism Book Alliance (Character Interview with Ian Dunaidh)
5/13 Joyfully Jay (Character Interview with Taren Laxley)
5/15 Book Suburbia (Tired of Vampires and Werewolves? How About Mermen?)
5/16 Jase's Atenaeum (TBA)
Good luck to everyone entering the giveaways! I'll leave you with an excerpt from the new book at the bottom of this post. Happy reading! -Shira
******
Blurb:  Since learning of his merman shifter heritage, Taren has begun building a life with Ian Dunaidh among the mainland Ea. But memories of his past life still haunt him, and as the threat of war with the hostile island merfolk looms ever closer, Taren fears he will lose Ian the same way he lost his beloved centuries before. Together they sail to the Gateway Islands in search of the fabled rune stone—a weapon of great power the Ea believe will protect them—and Odhrán, the pirate rumored to possess it.
After humans attack the Phantom, Taren finds himself washed up on an island, faced with a mysterious boy named Brynn who promises to lead him to Odhrán. But Taren isn't sure if he can trust Brynn, and Odhrán is rumored to enslave Ea to protect his stronghold. Taren will have to put his life on the line to find his way back to Ian and attempt to recover the stone. Even if he does find it, his troubles are far from over: he and Ian are being stalked by an enemy who wants them dead at all costs.
Excerpt from Chapter Two:
TAREN CHASED Ian through the surf, the water flying about him as his bare feet slapped the sand. The warm autumn sun on his shoulders and the salty tang of the water made him smile.
"You're too slow!" Ian called from halfway across the beach.
Taren laughed and dove into a wave, swam in his human form until he came upon Ian, grabbed him around the ankles, then knocked him into the water. Ian spluttered and transformed, planting his powerful tail. He paused for only an instant, then pivoted and swam against a wave that crested and broke near shore.
Taren looked around, trying to sense Ian. During the time they'd spent together at Callaecia, the powerful sensations he shared with Ian had only grown in their intensity. Even though he couldn't see him, Taren felt Ian's heart race as he swam, felt his pleasure, heard his lungs fill with water, and knew he was nearby. He didn't see Ian until he surfaced in a spray of foam, took Taren's hands, and dragged him down, forcing him to transform as well.
You cheated! Taren wriggled away from Ian and took off for one of the underwater caves near the cliffs. He flicked his tail harder when he sensed the movement of water behind him. Ian was the stronger swimmer, although in the months Taren had lived amongst the Ea at Callaecia, he'd learned to use his Ea body to its greatest advantage.
Ian caught up with Taren a moment later, swimming beneath Taren before encircling his waist with his powerful arms, capturing him in his embrace.
I yield! Taren laughed and allowed Ian to pull him closer. Besides, you've long ago captured my heart. He nipped at Ian's neck, eliciting a low rumble he could feel in his belly more than hear with his ears. Taren still marveled that in his Ea form he could hear so much under the water. He'd asked Ian once why the Ea didn't choose to spend their lives in this form, so taken was he with the joys of his Ea body and the beauty of the sea. Ian had just shrugged and told him that the Ea viewed their transformation as a gift from the goddess that set them apart from humans, but that they believed they were meant to live on land.
They swam out from land as they held each other, tails beating the water in tandem as they spiraled in a dizzying dance. More than anything, Taren found the Ea mating ritual a beautiful thing. Ian's Ea body was also beautiful. In this form, Ian's chest was broad and the muscles of his belly and arms more powerful. As a human, Ian was strong. As an Ea, he possessed strength and surprising grace few others did. Taren loved to watch Ian swim, watch the sinews of his body ripple as he moved his tail, watch his hair twist in the current. More thrilling, perhaps, was the knowledge that Ian was his, that Ian desired him above all others, that Taren held Ian's heart.
Ian released Taren as they glided over the sand at the bottom. Large schools of silver fish followed the contours of their bodies, calling to mind the shimmer of moon across the waves. Here, many feet below the surface, the pressure of the water created a warm cocoon around Taren and drove the warmth in his chest to his extremities, making his fingers more sensitive.
Taren flicked his tail to propel him around so that he and Ian swam toward each other, arms extended, then moved upward as they laced their fingers together and floated perpendicular to the sea floor. They kissed and their tongues entwined. Ian tasted of the ocean and of the promise of Taren's new life. Their former incarnations, Treande and Owyn, had been equals in everything. Partners, friends, lovers. Taren both relished and feared the power of his connection to Ian and the unexpected turn of fate that had brought them together, as well as the revelations of their past.
With a grin, Taren spun around so that he faced Ian's tail. He rotated his arm so that the sharp tines that ran from his fingers to his wrist grazed the slick surface. He'd learned how to retract the barbs so they would not injure; he'd also learned that if used properly, the gentle scrape of the barbs was a sensual treat Ian could not resist.
"Goddess!" Ian shouted in his mind. "Is it your wish to render me completely helpless with lust?"
Taren repressed a chuckle as he continued to stroke Ian's body. He might not be able to best Ian with his physical prowess, but he knew he held a stronger power over Ian. He relished the thought that he possessed Ian's heart and soul, for it made his own uncontrollable hunger to be near Ian bearable.