It's here!!! The brand-new Dreamspun Desires line from Dreamspinner Press is now available for preorder on subscription!
When I was a college student, I had a subscription to Harlequin's Silhouette Desires line of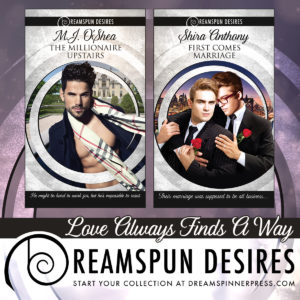 romances. And while I have to admit part of the reason I started writing my own romance novels was that I wasn't 100% thrilled with the happily-ever-afters in those books (my biggest aspiration in life wasn't getting married like the heroines in those books), I loved the way the books made me feel.
You probably remember the feeling if you read category romance. The anticipation, the meet cute, the rising sexual tension (and depending on the heat level of the story, the SEX!), the BIG misunderstanding or the BIG problem, the reconciliation. I would tear into the monthly package of books and read until early morning (and wobble into class half-asleep!).
Dreamspun Desire novels are all about the missed cues, misunderstandings, sweaty palms, seemingly insurmountable obstacles, and a million other romantic tropes we know and love. Easy on the angst and all about the romance. Sexy, but not all about the sex. These are books that will make you giggle. Stories that will make you smile. Love conquers all. All about the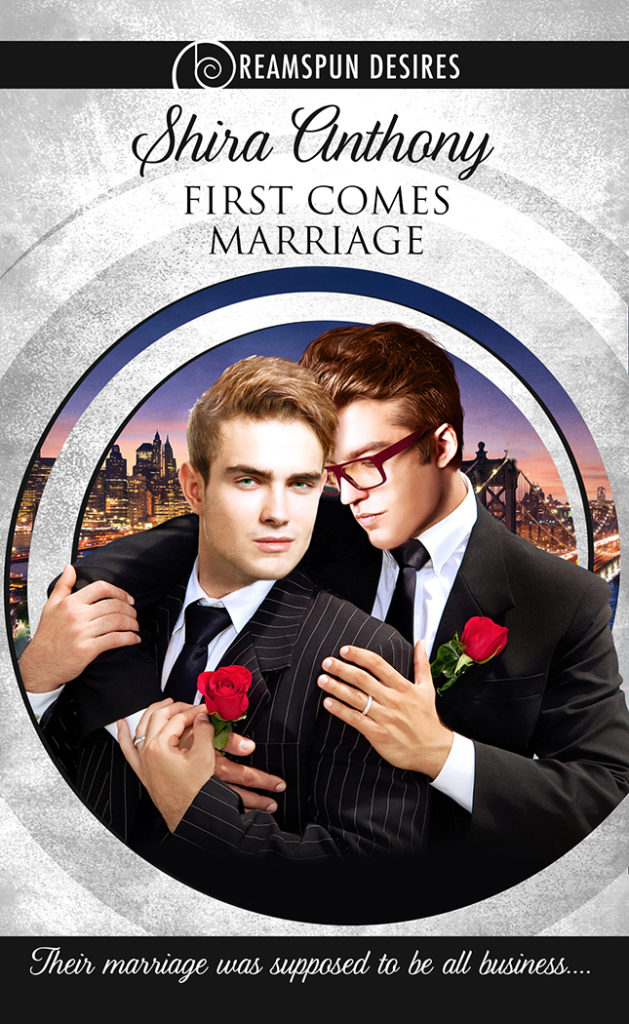 romance and the happily ever after.
Subscription you say? Two books each month for the price of one. You can choose from the ebook or paperback options. The paperbacks are smaller and reminiscent of the old Harlequins and Mills & Boon books. The covers are stylized, with a tag line and a photograph unique to each story.
My offering, First Comes Marriage, is 2nd up and releases on January 15th. It's a marriage of convenience story. Chris Valentine's a struggling novelist. When he meets sexy billionaire Jesse Donovan after a reading at a New York City cafe, the last thing Chris expects is a marriage proposal! But Jesse's not joking. If he doesn't get married, and quickly, Jesse will lose control of his family's company to his stepgrandmother.
******
Excerpt from Chapter Six:
Now, standing in the conference room of Windview Enterprises' corporate headquarters near South Ferry in Manhattan, one of the matching platinum bands Jesse had bought for them in his pants pocket, Chris wondered if he'd wake up from the dream. The floor-to-ceiling windows looked out over Wall Street and the East River through the forest of high-rise buildings.
"Do you, Jesse Chase Donovan, take Christopher James Valentine to be your husband, in love and in friendship, until you are parted by death?" the judge asked.
"I do." As Jesse slipped the ring on Chris's finger, he met Chris's gaze with such intensity that for an instant, Chris could almost forget the entire ceremony was a ruse to ensure the future of Windview remained firmly in Jesse's control. Damn the man for being so attractive. Damn him for being a nice guy, because that was the worst part of it. And the part that had you agreeing.
"And do you, Christopher James Valentine, take Jesse Chase Donovan to be your husband, in love and in friendship, until you are parted by death?"
Chris swallowed hard and prayed he didn't look as incredibly nervous as he felt. "I do." His hand shook as he took Jesse's hand and put the ring on his finger.
"Congratulations, Chris and Jesse," the judge said.
Chris caught Val's eye for a split second, and he half expected her to urge him to kiss Jesse. But it was Jesse who took charge and blindsided Chris with a kiss.
It started sweetly enough, just Jesse's lips against his, but instead of releasing Chris, Jesse pulled him tighter against him and pressed his tongue into his mouth. Jesse tasted fucking amazing. Chris didn't hesitate—their tongues tangled and danced. This close, Jesse smelled good and felt even better. Chris was barely aware of slipping his hands around Jesse's back before resting them on lean hips. He didn't think twice as his body and Jesse's responded in kind.
Someone giggled—Chris recognized Val's voice—and Jesse pulled abruptly away. Their eyes met for a split second, and Chris thought he saw a mixture of desire and surprise in Jesse's deep blue eyes. The next thing Chris knew, Val had thrown her arms around him and only his racing heart and tingling lips told him he hadn't imagined the entire thing.
"Oh, Chris," Val cooed. "You really did it!"
"Yeah" was the only response Chris could manage. He was still thinking about Jesse's mouth.
"I guess I was wrong about him being straight," she whispered mischievously.
Chris was thrilled when Terry grabbed him in a bear hug, because he had no idea how to respond to Val's comment. He also wasn't sure if he should be pissed off with Jesse for the show. He supposed if this was going to work, Jesse needed to make the marriage look real. Still, how difficult would it have been to warn Chris that he had that up his sleeve?
******
You can subscribe to the Dreamspun Desires line at Dreamspinner Press: http://www.dreamspinnerpress.com/store/product_info.php?products_id=7224&cPath=1583