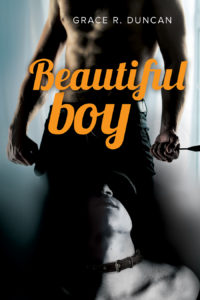 Today, it's my pleasure to welcome a wonderful writer whom I'm lucky to count as a dear friend. Grace Duncan has a brand new release, Beautiful boy, from Dreamspinner Press! She's sharing an exclusive excerpt today, part 2 of a series of excerpts you can find on her blog tour (see the bottom of the post for the tour listing).
Reading BDSM is a guilty pleasure of mine, so I'm really looking forward to reading this! Congratulations, Grace, on your new release and welcome! -Shira
******
Please note: This is part 2 of a series of excerpts. Be sure to check back on previous tour stops to get all of them!
Kyle
My time with Master Nash had been nice but frustrating. While he used orgasm control and denial quite a bit to help guide me in learning what it meant to be submissive, my release had only ever come from my own hand. And though I had certainly been used to that—not many other options for a closely closeted gay man—it made for a very trying year.
I shook the thoughts off and looked out over the audience while keeping my head down. The auctioneer introduced me and mentioned my offer and preference, which made me blush. The Dom was still standing near my cage, and he didn't even hesitate when the auctioneer started the bidding at two hundred dollars. I wondered if I'd get as much as the girl before me. I hoped so. The money was going for a good cause—this year, the local animal shelter—and I wanted to earn as much for it as I could.
The bid went up to three hundred, thanks to a guy toward the back. I couldn't see who he was from where I stood, but the other guy countered right away. A third guy tried to outbid my Dom—named so because I wanted to belong to him badly—but he countered the third guy too. The three of them competed in fifty-dollar increments for some time, until my Dom raised the bid some two hundred dollars to eight hundred, sparking hoots from the audience.
"Eight hundred, going once!"
"Nine hundred!" the guy in the back called.
My Dom shook his head and raised his hand. "A thousand."
The auctioneer glanced at me as if trying to figure out if I was worth a thousand dollars or not. I certainly didn't believe I was. I stared wide-eyed at my Dom, forgetting all about protocol.
"A thousand, going once!" He glanced over at the other guy, then back to my Dom again. "Going twice!" Another few seconds pause, then: "Sold!"

If Kyle can get past his fears, he could see what his beloved Master Mal does: a beautiful boy that deserves his collar–and heart.
Blurb: Malcolm Tate hung up his flogger when his submissive sought out another Dom and landed in the hands of a serial killer. Convinced his lack of dominance sent his sub away, Mal has spent two years blaming himself for what happened. But when his best friend finally convinces him to go back to the local dungeon, Mal's grateful. Especially when he wins beautiful, submissive, firmly-closeted Kyle Bingham in a charity slave auction.
College grad Kyle hasn't earned enough to move out of the loft his conservative, homophobic parents bought, much less to buy any of the other things still in their name. When he's won at auction by the hot, amazing Mal, he's shocked that anyone would want him. No one else seemed to—not his parents, his former Doms, or any of his disastrous dates.
But Mal does want him and Kyle lets his guard down, only to be outed to his parents. With his world crashing down, he must find a way to trust Mal—and their developing relationship—or risk losing everything.
Buy links:
http://www.dreamspinnerpress.com/store/product_info.php?products_id=7068
http://www.amazon.com/Beautiful-boy-Grace-R-Duncan-ebook/dp/B017OGYVK2/
https://www.allromanceebooks.com/product-beautifulboy-1916336-147.html
http://www.barnesandnoble.com/w/beautiful-boy-grace-r-duncan/1122918967?ean=9781634764070
https://itunes.apple.com/us/book/beautiful-boy/id1054695006?mt=11
https://store.kobobooks.com/en-us/ebook/beautiful-boy-2

Grace Duncan grew up with a wild imagination.  She told stories from an early age – many of which got her into trouble.  Eventually, she learned to channel that imagination into less troublesome areas, including fanfiction, which is what has led her to writing male/male erotica.
A gypsy in her own right, Grace has lived all over the United States.  She has currently set up camp in East Texas with her husband and children – both the human and furry kind.
As one of those rare creatures who loves research, Grace can get lost for hours on the internet, reading up on any number of strange and different topics.  She can also be found writing fanfiction, reading fantasy, crime, suspense, romance and other erotica or even dabbling in art.
Find Grace here:
Website  ◊ Facebook ◊ Twitter ◊ Youtube ◊ Goodreads