Title: From The Depths
Summary: An erotic, historical romance set in the heyday of pirates and high seas adventures and written in the style of a classic romance novel. Sarah Morgan is the daughter of a Royal Navy admiral who is kidnapped by pirates and forced to satisfy the twisted desires of the pirate captain, John Taylor. On board, she meets Joshua Samuels, a beautiful American being held as the captain's pleasure slave. The pirate captain, in an effort to secure a business deal with Marcus Lawson, a wealthy plantation owner who fled England years before, allows Lord Lawson the unfettered "use" of his two slaves for two weeks. Expecting the same abusive treatment from her new captor, Sarah discovers the enigmatic Lawson to be far more enticing than she had originally thought. At his island estate, Lawson schools a willing Sarah in the ways of pleasure and pain, even as Sarah struggles to come to grips with her growing love for Joshua. Will Sarah and Joshua find freedom and love, or will fate intervene to separate them forever? WARNING: Contains graphic sexual situations which may be disturbing to some readers, including scenes depicting non-consensual sex, sexual devices, BDSM, anal play, and threesomes.
Release Date: 2013-12-12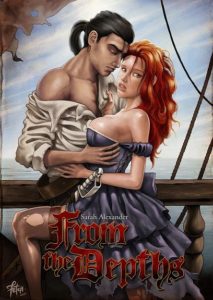 From The Depths
Title: Stealing the Wind
Summary: Taren Laxley has never known anything but life as a slave. When a lusty pirate kidnaps him and holds him prisoner on his ship, Taren embraces the chance to realize his dream of a seagoing life. Not only does the pirate captain offer him freedom in exchange for three years of labor and sexual servitude, but the pleasures Taren finds when he joins the
captain and first mate in bed far surpass his greatest fantasies. Then, during a storm, Taren dives overboard to save another sailor and is lost at sea. He's rescued by Ian Dunaidh, the enigmatic and seemingly ageless captain of a rival ship, the Phantom, and Taren feels an overwhelming attraction to Ian that Ian appears to share. Soon Taren learns a secret that will change his life forever: Ian and his people are Ea, shape-shifting merfolk… and Taren is one of them too. Bound to each other by a fierce passion neither can explain or deny, Taren and Ian are soon embroiled in a war and forced to fight for a future—not only for themselves but for all their kind. WARNING: 18+ adults only, contains scenes of explicit MMM menage (although the pairing is strictly MM), and dubious consent. Would you like to download a free copy of Stealing the Wind? For a limited time, it's available on BookFunnel right here.
Release Date: 2013-08-12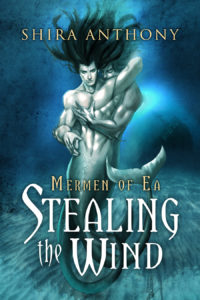 Stealing the Wind
Title: The Dream of a Thousand Nights
Summary: Neriah, the crown prince of Tazier, escapes his father's deadly wrath with the help of a Jinn named Tamir. Knowing that the other Jinn would find and punish him for falling in love with a human, Tamir takes Neriah's memories of their brief time together and leaves him with only a jade pendant as a token of his love. Tamir is then stripped of his powers and imprisoned for his crime. Ten years later, Neriah is still on the run from the King's assassins, but each night he dreams of a lover whose face he cannot see and whose name he does not know, but who fills his heart with peace. Tamir, freed at last from his prison cell, poses as a pleasure slave and offers to serve the prince. Although Neriah does not recognize Tamir, he falls in love with the powerless Jinn. But just when Tamir has earned Neriah's trust, he is forced to betray it. There may be no hope of mending their broken relationship, but Tamir is determined to see Neriah on his rightful throne—even if it costs the Jinn his life.
Release Date: 2011-09-26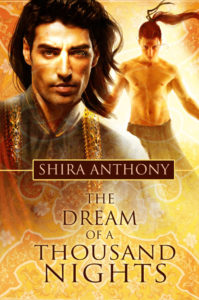 The Dream of a Thousand Nights