Title: Blood and Rain
Summary: Adrien Gilbert has spent several lifetimes searching for the love he lost. Born in the 1800s into a clan of fabled vampire hunters, Adrien once wanted nothing more than to tend his family's vineyard in southern France or read a good book. But Adrien's peaceful existence ends abruptly when his older brother, François, is murdered. Bound by his hunter's oath, Adrien sets out on a path that will forever change his life when he agrees to execute his brother's killer, the vampire Charles Duvalier. After months chasing the elusive Charles, Adrien reluctantly makes a bargain with Nicolas Lambert, an ancient vampire. Adrien will escort Nicolas to Paris for his marriage to a rival clanswoman, and Nicolas will help Adrien find Charles. Nicolas's quiet strength and gentle heart soon convince Adrien that Nicolas is nothing like the vampires he has sworn to destroy. As the wedding date draws nearer, a force intent on destroying the fragile peace between the vampire clans threatens to tear apart both the vampire realm and the world of the hunters. To secure both past and future for those he loves, Adrien must find a way to stop the looming war between hunters and vampires. But first he'll have to let Nicolas go. Note:  This is the first in a series of three novels entitled Blood and Rain, Blood and Ghosts, Blood and Eternity. The series it set in France in 1895 and in the present day, and features three MM pairings. Books in this series must be read in order.
Release Date: 2014-12-15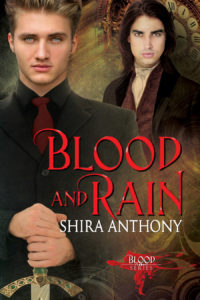 Blood and Rain
Title: The Trust
Summary: Eight years ago, Jake Anders was a college kid from the wrong side of the tracks. Then Trace Michelson recruited him into The Trust, a CIA-backed agency whose "executives" eliminate rogue biotechnology operations. Trace was everything Jake ever wanted in a man: powerful, brilliant, and gorgeous. But Jake never admitted his attraction to his mentor, and Trace always kept Jake at arm's length. Now Trace is dead and Jake is one of The Trust's best operatives, highly skilled and loyal to the organization. But the secret agent has his own secret: six years ago, before he was assassinated, Trace designed a Sim chip containing his memories and experiences—and now that chip is part of Jake. It's just data, designed to augment Jake's knowledge, but when Sim becomes reality, Jake wonders if Trace is still alive or if Jake really is going crazy like everyone claims. He doesn't know if he can trust himself, let alone anyone else. To learn the truth about Trace and the chip, Jake embarks on a dangerous mission—except he's not the only one looking for the information. Some of the answers are locked in his head, and unless he finds the key, he'll be killed for the technology that's become a part of him. Now, more than ever, Jake wishes Trace were here to guide him. Too bad he's dead… right?
Release Date: 2012-06-18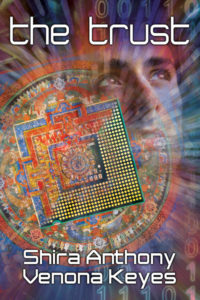 The Trust