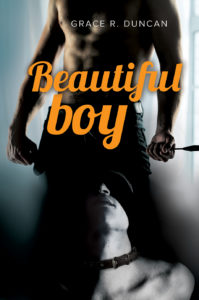 Today I'm so thrilled to be sharing the cover reveal for Grace Duncan's upcoming release, Beautiful boy! You can preorder the book at Dreamspinner Press here: http://www.dreamspinnerpress.com/store/product_info.php?products_id=7068
Here's the blurb:
Malcolm Tate hung up his flogger when his submissive sought out another Dom and landed in the hands of a serial killer. Convinced his lack of dominance sent his sub away, Mal has spent two years blaming himself for what happened. But when his best friend finally convinces him to go back to the local dungeon, Mal's grateful. Especially when he wins beautiful, submissive, firmly-closeted Kyle Bingham in a charity slave auction.
College grad Kyle hasn't earned enough to move out of the loft his conservative, homophobic parents bought, much less to buy any of the other things still in their name. When he's won at auction by the hot, amazing Mal, he's shocked that anyone would want him. No one else seemed to—not his parents, his former Doms, or any of his disastrous dates.
But Mal does want him and Kyle lets his guard down, only to be outed to his parents. With his world crashing down, he must find a way to trust Mal—and their developing relationship—or risk losing everything.
Beautiful boy
Genre: BDSM, Contemporary, M/M
Publisher: Dreamspinner Press
Cover artist: Aaron Anderson
104,000 words
Release date: 11/20
If Kyle can get past his fears, he could see what his beloved Master Mal does: a beautiful boy that deserves his collar–and heart.
Author bio:
Grace Duncan grew up with a wild imagination.  She told stories from an early age – many of which got her into trouble.  Eventually, she learned to channel that imagination into less troublesome areas, including fanfiction, which is what has led her to writing male/male erotica.
A gypsy in her own right, Grace has lived all over the United States.  She has currently set up camp in East Texas with her husband and children – both the human and furry kind.
As one of those rare creatures who loves research, Grace can get lost for hours on the internet, reading up on any number of strange and different topics.  She can also be found writing fanfiction, reading fantasy, crime, suspense, romance and other erotica or even dabbling in art.
Find Grace here:
Website  ◊ Facebook ◊ Twitter ◊ Youtube ◊ Goodreads