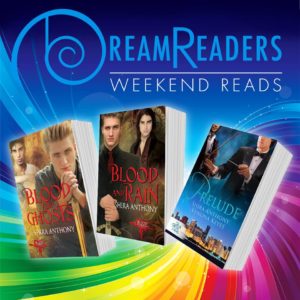 I'm thrilled to be Dreamspinner Press's Weekend Reads author this weekend! You can pick up copies of books 1 and 2 in my Blood vampire series, Blood and Rain and Blood and Ghosts, for 99 cents each this weekend only! The final Blood Series book, Blood and Eternity, will be coming out in 2016. Blood Series books are sequels and must be read in order.
Want to try a Blue Notes Series book? Prelude, co-written with the lovely Venona Keyes is also on sale for 99 cents! Blue Notes books are standalone stories and can be read in any order.

While you're over at Dreamspinner, you may want to check out the brand new Dreamspun Desires line of romances and my offering, First Comes Marriage! I'm so excited about these tropey, sweet, romance front and center stories reminiscent of the old Harlequin romances I grew up reading.
Happy 2016 everyone! I hope it's a great year! -Shira