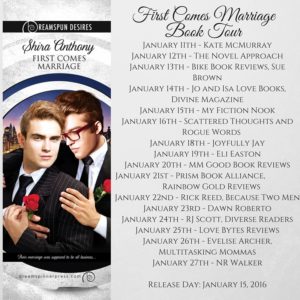 Today is the first stop on the First Comes Marriage book tour! This Friday, January 15th, is release day. You can preorder your individual copy  from Dreamspinner Press or you can sign up for the subscription service and receive 2 Dreamspun Desires category romance novels monthly in ebook or paperback for a significant discount over the individual book price.
Grand prize for the book tour giveaway is a gift certificate for a dozen red roses for your sweetheart. First prize is a $10 Dreamspinner Press gift code. You can enter the giveaway at any of the tour stops by commenting, tweeting, etc.
First Comes Marriage, takes a few of the classic romance tropes and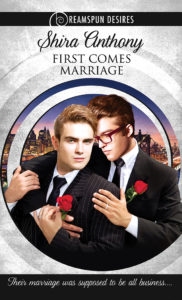 turns them on their head. Marriage of convenience? Check. Billionaire playboy? Conniving stepgrandmother? Check.
Jesse Donovan, the billionaire heir to his grandfather's boat building business, must get married or he'll lose control of his company under the terms of his grandfather's will. Chris Valentine is a struggling novelist working as a barista in New York City. When handsome, charming Jesse proposes, Chris thinks it's a joke! Chris finally gives in and marries Jesse. But the more time they spend together, the more Chris comes to genuinely care for New York's most eligible "straight" bachelor. But this marriage is just business, isn't it?
I hope you'll find these stories as appealing as I have. I'll leave you with a taste of First Comes Marriage. Hope you enjoy it. -Shira

Excerpt from Chapter Six:
Now, standing in the conference room of Windview Enterprises' corporate headquarters near South Ferry in Manhattan, one of the matching platinum bands Jesse had bought for them in his pants pocket, Chris wondered if he'd wake up from the dream. The floor-to-ceiling windows looked out over Wall Street and the East River through the forest of high-rise buildings.
"Do you, Jesse Chase Donovan, take Christopher James Valentine to be your husband, in love and in friendship, until you are parted by death?" the judge asked.
"I do." As Jesse slipped the ring on Chris's finger, he met Chris's gaze with such intensity that for an instant, Chris could almost forget the entire ceremony was a ruse to ensure the future of Windview remained firmly in Jesse's control. Damn the man for being so attractive. Damn him for being a nice guy, because that was the worst part of it. And the part that had you agreeing.
"And do you, Christopher James Valentine, take Jesse Chase Donovan to be your husband, in love and in friendship, until you are parted by death?"
Chris swallowed hard and prayed he didn't look as incredibly nervous as he felt. "I do." His hand shook as he took Jesse's hand and put the ring on his finger.
"Congratulations, Chris and Jesse," the judge said.
Chris caught Val's eye for a split second, and he half expected her to urge him to kiss Jesse. But it was Jesse who took charge and blindsided Chris with a kiss.
It started sweetly enough, just Jesse's lips against his, but instead of releasing Chris, Jesse pulled him tighter against him and pressed his tongue into his mouth. Jesse tasted fucking amazing. Chris didn't hesitate—their tongues tangled and danced. This close, Jesse smelled good and felt even better. Chris was barely aware of slipping his hands around Jesse's back before resting them on lean hips. He didn't think twice as his body and Jesse's responded in kind.
Someone giggled—Chris recognized Val's voice—and Jesse pulled abruptly away. Their eyes met for a split second, and Chris thought he saw a mixture of desire and surprise in Jesse's deep blue eyes. The next thing Chris knew, Val had thrown her arms around him and only his racing heart and tingling lips told him he hadn't imagined the entire thing.
"Oh, Chris," Val cooed. "You really did it!"
"Yeah" was the only response Chris could manage. He was still thinking about Jesse's mouth.
"I guess I was wrong about him being straight," she whispered mischievously.
Chris was thrilled when Terry grabbed him in a bear hug, because he had no idea how to respond to Val's comment. He also wasn't sure if he should be pissed off with Jesse for the show. He supposed if this was going to work, Jesse needed to make the marriage look real. Still, how difficult would it have been to warn Chris that he had that up his sleeve?

You can purchase First Comes Marriage at Dreamspinner Press: http://www.dreamspinnerpress.com/store/product_info.php?products_id=7302
You can subscribe to the Dreamspun Desires line at Dreamspinner Press: http://www.dreamspinnerpress.com/store/product_info.php?products_id=7224&cPath=1583