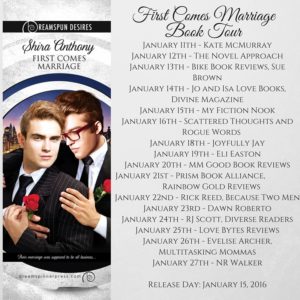 Today is release day for First Comes Marriage! The book is now available for download from Dreamspinner Press, Amazon, All Romance Ebooks, Barnes & Noble, and other booksellers.
The First Comes Marriage Book Tour is wrapping up its first week with an exclusive post at My Fiction Nook, where you can enter to win a gift certificate for a dozen red roses for you or your sweetheart. First prize is a $10 Dreamspinner Press gift code.
Today, you can also enter a special giveaway contest over at the Dreamspinner Press Blog. I've got a special post for Dreamspinner Press readers.
First Comes Marriage is a modern take on the classic "category" romances I used to read as a kid. You remember those Harlequin and Mills & Boon stories that used to ship, 4 to a box, every month? First Comes Marriage takes a few of the classic romance tropes and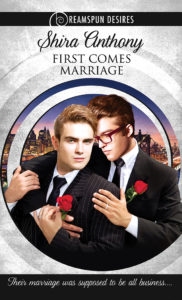 turns them on their head. Marriage of convenience? Check. Billionaire playboy? Check. Conniving stepgrandmother? Check. Two sexy men? Check. Slow burn? Check. HEA? Check.
Jesse Donovan, the billionaire heir to his grandfather's boat building business, must get married or he'll lose control of his company under the terms of his grandfather's will. Chris Valentine is a struggling novelist working as a barista in New York City. When handsome, charming Jesse proposes, Chris thinks it's a joke! Chris finally gives in and marries Jesse. But the more time they spend together, the more Chris comes to genuinely care for New York's most eligible "straight" bachelor. But this marriage is just business, isn't it?
If you love sweet, sexy stories with a happily-ever-after that will leave a smile on your face, you'll enjoy the Dreamspun Desires line of gay romances from Dreamspinner Press. I love them so much, I have a subscription to the line. I'll leave you with a taste of First Comes Marriage. Hope you enjoy it. -Shira

Excerpt from Chapter One:
CHRIS VALENTINE took a deep breath as the crowd applauded his second reading. No seats remained, and at least a dozen people stood at the back of the room as he and the other two featured authors read from their books. Now, as the flock of pissed-off butterflies in his gut gave up the ghost, he thought less about how the reading had gone and more about how incredibly hungry he was.
Chris had lost count of how many times he'd read from his sci-fi/fantasy trilogy at Baker's Literary Café, but this time he'd been a nervous wreck. His current work-in-progress, Venturing Backward, was entirely different from anything he'd written before. He hadn't even shared it yet with his roommate, Val. Why he'd decided on the spur of the moment to read a short passage, he couldn't explain. He'd never been much of a risk taker.
"Loved your reading." The woman who'd been seated in the front row thrust her hand out to Chris. "Rhonda Wexler." Her dragon-red curls bobbed as she spoke through black-tinted lips. A small crowd had gathered behind her, waiting patiently to greet him. Chris saw a few new faces amid the usual Tuesday night crowd.
He smiled and shook her hand, the contact helping to dispel the rest of his body's coiled tension. "Good to meet you, Rhonda."
"I read the first installment when you had it up as a freebie. Are you going to self-pub the rest, or are you thinking of shopping the trilogy to the New York houses?" Rhonda asked as she shifted from one Dr. Martens–clad foot to the other and handed him her card.
"I've tried a few," he answered, "but so far no luck." The first book hadn't done poorly on Amazon. But outside his growing cult following, it hadn't gotten much traction, and the royalties had barely made a dent in his rent.
"M-Mr. Valentine?" someone said from over Chris's shoulder. Chris turned and offered the newcomer his hand. "Jesse Donovan."
A quick glance at Jesse made Chris wonder if he'd come to hear one of the other authors read, or just wandered into the wrong café. A few inches taller than Chris, with reddish brown hair and a hint of shadow on his jaw, Jesse appeared entirely out of place in the sea of goth and steampunk. Dressed in a crisp button-down shirt, sport coat, and a well-fitted pair of jeans, Jesse gazed at him through burgundy-trimmed glasses. His bright blue eyes made Chris's pulse quicken.
"Good to meet you, Jesse."
The hint of awkwardness in Jesse's gaze surprised Chris, but it vanished as Jesse shook his hand with a firm grip. "You did a great job tonight," Jesse said as he pulled off his glasses and shoved them into his jacket pocket. "I especially liked the new work."
"You may have been the only one," Chris quipped. He hadn't expected the new novel to be a hit with his usual readers, so he hadn't been too disappointed with the polite applause. Magical realism might be popular among the literary set, but it was hardly the stuff his fantasy readers would get excited about.
Jesse responded enthusiastically, "Don't get me wrong. I love the Valhron Chronicles, but the new work"—he offered Chris a warm smile—"is something unique. I look forward to reading it when it's completed."
Jesse had clearly read his work, a realization that made Chris all the more curious about him. "Thank you."
Jesse hesitated for a split second before saying, "I'd like to help get your work in the right hands." He handed Chris his card. "Give me a call. We can meet for coffee, or whatever works best for you."
"Thank you." So Jesse was the agent rumored to be attending the reading. Chris would definitely be taking him up on the offer, if only to learn more about how he might break into the New York publishing scene.
Two women dressed in Victorian walking suits erupted through the crowd and collided with Jesse. Chris caught Jesse's arm in time to keep him from falling forward, the faint scent of bergamot and citrus from Jesse's cologne tickling Chris's nose as Jesse grabbed his shoulder to steady himself. Jesse met Chris's gaze and held it as something like surprise flickered in his eyes. Chris half wished Jesse wasn't an agent and that the invitation to coffee wasn't to discuss business.
"Sooorry," one of the women said, giggling.
"No problem," Jesse said. He straightened quickly and withdrew his hand from Chris's arm.
"Carmine was so excited to meet you," the other woman gushed, "she pushed a little too hard." Carmine stared at Chris, clearly dumbfounded.
"I'll leave you to your adoring fans," Jesse said, the edges of his mouth quirking upward as he spoke. "Give me a call when you have a chance." He disappeared before Chris could thank him.
TWO BEEFY arms swallowed Chris in a powerful embrace the second he stepped through the doorway to the apartment. "You rocked!" Terry shouted as he squeezed Chris so tightly, Chris had to push away from Terry's chest to breathe.
"Terry. Man. You know I love you, but—"
"Val loved it too," Terry said, releasing Chris and smiling at his fiancée, who was setting several pizzas on the kitchen table.
Val smiled at Chris through her too-long bangs and nodded. "You did a wonderful job, Chris. I thought I'd have to restrain Terry," she said with a half snort, half giggle. "He was so excited when you got to the part about the lost mage, I thought he was going to lose it."
"I should never have mentioned you were my inspiration for him." Chris shook his head in mock disgust. "Your head is already too big."
"Accept it for what it is," Terry answered, grinning broadly. "Recognition of my immense awesomeness as a roommate."
"Roommates," Val corrected.
"Best roommates ever," Chris agreed. "Especially since you haven't kicked me out yet."
"Rumor is that there was a hotshot agent there tonight." Val snagged a piece of pepperoni pizza.
"There was." Chris pulled Jesse's card from his pocket and waved it around.
"That was Mr. Tall, Auburn, and Handsome?" Val asked as she snatched the card from his hands. "The gorgeous man I saw you speaking with before the steampunk sisters decided to set up camp?"
"Yep. Said he wanted to put me in touch with someone in—"
"Whoa, whoa. This guy isn't an agent," Val said, eyes wide with recognition as she stared at the card.
Chris glanced at Terry, who just shrugged. "What?" Chris took a bite of his pizza and frowned.
"This Jesse Donovan is the CEO of Windview Enterprises," Val said, as if the name might trigger some sort of understanding.
"Never heard of him."
"Seriously? He was on the cover of New York View last year. You know, their annual Most Eligible Bachelor issue? It was all over the newsstands."
Chris burst out laughing. "Just because I'm gay doesn't mean I snag every trash magazine that has good-looking men on the cover, you know."
Val blushed fuchsia. "I didn't mean… I mean… it isn't because—"
Terry snorted and high-fived Chris. "He's gay, Val. That doesn't mean he wants to tape photos of hot men on his wall." He grinned at Val and added, "Although you know, Val, I seem to remember you had a poster of Chris Pine over your bed in coll—"
"Shut up." Val pushed Terry, who fell sideways onto the couch and laughed until he coughed.
"Admit it," Terry said between wheezes. "This guy's totally your type."
Terry had a point. Jesse was exactly the kind of man Chris dated: tall and athletic, confident, but not overly so. Not that Chris was interested in anything but a quick hookup. The country might be marriage-crazy, but he had no interest in a white picket fence and a passel of kids.
"And totally straight," Val put in with a shake of her head. "He's been all over the gossip pages recently with some heiress. I've got a couple friends at school who have a pool going. They say he's going to marry her." She snorted, then added, "I've got $100 that he stays single."
Terry rolled his eyes, garnering another glare from Val.
"What does Windview Enterprises do?" Chris asked, more curious than he cared to admit. He didn't care what Jesse Donovan's claim to fame might be, but he'd still follow up on the lead.
"Yachts," she said. "Really big ones. You know, the ones they show movie stars cavorting around on with the itsy-bitsy bikinis?"
Figures.
"And hotel properties," Val continued. "High-end resorts in the Caribbean, that sort of thing. Oh, and they have a commercial group that builds supertankers."
"How do you know all that?" Chris asked.
"People magazine." Val's cheeks flushed, and Terry shot her an inquisitive look. "Well, I have to read something when I'm on the subway."
"Not your typical fare for a doctoral candidate in nineteenth century literature," Chris said.
"You gonna call him?" Terry asked with a yawn.
"Why not? Even if he's not an agent, he might be able to put me in touch with one." Chris took back the card from Val and flipped it around in his fingers. For the first time, he noticed the handwritten number on the back and the scribbled notation there: personal cell.
"Want another slice?" Val asked.
Chris shook his head. "I'm beat. And I'm supposed to work the afternoon shift tomorrow." He gathered the plates and headed for the kitchen.
"You're going to tell me all about it, aren't you?" Val asked as she helped him wash the dishes.
"Sure." Chris laughed. "He's probably a jerk."
"Even better," she said, grinning now. "I'm gonna hold you to it!"

You can purchase First Comes Marriage at Dreamspinner Press: http://www.dreamspinnerpress.com/store/product_info.php?products_id=7302
You can subscribe to the Dreamspun Desires line at Dreamspinner Press: http://www.dreamspinnerpress.com/store/product_info.php?products_id=7224&cPath=1583