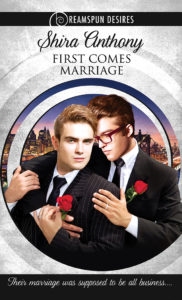 We're well into the final week of the First Comes Marriage book tour, with the giveaway wrapping up about a week later on January 31st. The book is now available for download from Dreamspinner Press, Amazon, All Romance Ebooks, Barnes & Noble, and other booksellers.If you haven't already, be sure to comment on this or one of the book tour posts for a chance to win a dozen red roses for you or your sweetheart.
For those readers who may not already know, First Comes Marriage is the second book in the brand new Dreamspun Desires line and is an honest to goodness "category romance." The term comes from the old tradition of publishing a certain number of books on a monthly basis in a certain category. You remember these. When I was a kid, they were the Harlequin and Silhouette romances that were shipped, 4 books a month, on subscription.
Category romances were sweet, sometimes funny, standalone stories with a yummy happy ending. These were romances that made you feel good. For me, I remember being an angsty teen and reading these books. They made my heart pound, made my arms ache, and gave me that rush of "oh yeah!" at the end of the story that made me want to devour more romances.
When I was working on First Comes Marriage, I did a lot of thinking about what makes a classic category romance make me feel so damn good. I read a few of the old romances, and I really thought about what makes them work for a reader like me. My husband, the scientist, would call that "reverse engineering." It was a bit like eating a really good piece of cake and figuring out what ingredients went into it because you don't have the recipe!
So what's the recipe?
Take two main characters and ratchet up the heat. I'm talking a very slow burn that builds until you are fanning yourself and ready to scream, "Tell him you love him already!" Or at least, "Tell him you want to have sex with him already!" Stir in something that presents a bit of a sticking point for both characters and threatens to keep them apart. Nothing too angsty here, just something they have to overcome separately or, even better, together. Add a secondary character or two who just might derail the budding romance or help it happen for our main characters. Add doubts and stir again. Little niggles or fears. Maybe sprinkle a little misunderstanding in while you're at it.
Pour all the ingredients into a pan and bake it at high temperature. What do you get? Sexy, sweet, and spicy romance that tastes as good as tomato soup and a grilled cheese sandwich on a cold day, or maybe some really good mac 'n cheese. We're not talking prime rib that you eat with expensive French wine, but the kind of meal that leaves you satisfied and smiling. Simply fun and feel-good fare.
You can buy it First Comes Marriage as a single book, or you can subscribe to the Dreamspun Desires line and get two books a month at a significant discount (ebook and paperback). Read down for an excerpt and don't forget to enter the giveaway! -Shira

Their marriage was supposed to be all business….
When struggling novelist Chris Valentine meets Jesse Donovan, he's interested in a book contract, or possibly a date. The last thing Chris expects is a marriage proposal from New York City's most eligible bachelor!
Jesse's in a pinch. To keep control of his company, he has to marry. So he has valid reasons for offering Chris this business deal: in exchange for living in a gorgeous mansion for a year, playing the doting husband, Chris gets all the writing time he wants and walks away with a million-dollar payoff. Surely Chris can handle that. He can handle living with the most handsome and endearing man he's ever met, a man he immediately knows he wants in the worst way and can't have. Or can he?

Excerpt from Chapter Thirteen
That night Chris settled for yet another dinner alone in the Red Room, the smaller of two dining rooms at the estate. The day before, he'd asked Marcie to join him, but she'd flatly refused. "After his grandfather died, I told Mr. Donovan that if I was going to stay on, I wanted him to keep things the way they'd always been." In spite of this, she'd still ended up chatting with him over coffee after she served him a delicious dinner of freshly caught bass and vegetables she'd grown in the garden on the side of the house.
Tonight, however, after Marcie cleared what was left of Chris's meal, it was not she who walked into the Red Room ten minutes later but an attractive middle-aged woman with a shoulder-length blonde bob. Dressed in a well-tailored linen pantsuit that wore its myriad wrinkles well, she looked as though she'd just flown in from somewhere tropical. Which, apparently, she had, since Marcie came chasing after her, saying, "Mrs. Donovan, you must be tired from the flight. I'd be happy to serve you some dinner in your rooms, if you'd—"
"You're the wife?" the woman said. Chris knew she had to be Jesse's stepgrandmother, Wenda.
"Wrong plumbing," Chris joked, hoping to ease the tension.
"Was that supposed to be a joke?" Wenda countered.
Not much for humor. "Chris Valentine." Chris stood and offered her his hand. "Husband."
She didn't shake his hand but took her measure of him, eyeing him from head to toe. The scrutiny made Chris want to squirm, but he schooled his expression and willed his face not to twitch. "I didn't know Jesse had any interests outside the usual," she said. "Then again, you're far easier on the eyes than the usual."
Chris chuckled. "Thank you. I think." So maybe she does have a sense of humor. Dry as the Sahara, but….
She narrowed her eyes and turned to Marcie, whom Chris had nearly forgotten was still standing there. "I'd like some dinner, unless that's a problem."
Marcie squeaked, "No, of course not, Mrs. Donovan," then skittered off to the kitchen.
"Long flight?" Chris asked and pulled a chair out from the table.
Wenda raised a questioning eyebrow, then sat heavily. "Missed my connection in Puerto Rico. I should have taken the company jet."
"Why didn't you?"
Her eyes grew wide. Had she expected him to just roll over and play dead? "I… I prefer not to. It's a waste if it's only me."
This doubly surprised Chris, that she'd consider the expense and that she'd admit it. "Sounds reasonable."
"You're not what I expected," she said.
About Shira
Shira Anthony is a complete sucker for a happily-ever-after, and rarely reads or writes a story without one. Never a fan of instalove, Shira likes to write stories about real men with real issues making real relationships work.
In her last incarnation, Shira was a professional opera singer, performing roles in such operas as "Tosca," "i Pagliacci," and "La Traviata," among others. She's given up TV for evenings spent with her laptop, and she never goes anywhere without a pile of unread M/M romance on her Kindle.
Shira is married with two children and two insane dogs, and when she's not writing she is usually in a courtroom trying to make the world safer for children. When she's not working, she can be found aboard a 36' catamaran at the Carolina coast with her favorite sexy captain at the wheel.
Interested in hearing Shira sing? Here's a link to a live performance of Shira singing an aria from Puccini's "Tosca": http://www.shiraanthony.com/wp-conten…
You can subscribe to Shira's monthly newsletter for updates, free fiction, and subscriber-only contests here: http://www.shiraanthony.com/newsletter/
Where to find the author:
Giveaway!
First Comes Marriage is all above love and romance, and the book tour grand prize is a dozen red roses for your sweetheart (or whoever you think deserves it!). First prize is a $10 Dreamspinner Gift Certificate.
(Just click the link below)
(Ends 31st January 2015)
Check out the other blogs on the blog tour