Title: A Solitary Man
Summary:
Joint project with Aisling Mancy (aka Cody Kennedy)
Sparks fly when Chance meets tall, sexy Xav at a Wilmington bar and they have the hottest one-nighter of their lives. But Chance doesn't do repeats, Xav seems detached, and they go their separate ways without a word. Later, when closeted Assistant District Attorney C. Evan "Chance" Fairchild meets Dare's Landing's newest deputy sheriff, Xavier "Xav" Constantine, Evan isn't only wary. He's irritated as hell.
Xavier is a former FBI agent turned deputy sheriff who is hot on the trail of a South American child prostitution ring. Evan is fighting to put an end to rampant cocaine trafficking and chafing under the thumb of an election-hungry boss. When someone tries to kill the eleven-year-old witness who holds the key to both their investigations, they're forced to work together as they put their lives on the line to protect him. As Chance and Xav collide in the heat of a sweltering North Carolina summer, dodging bullets and chasing bad guys isn't the only action going on.
Release Date: 2015-11-06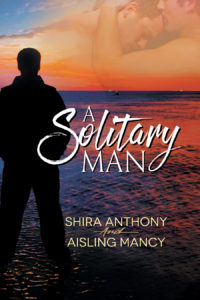 A Solitary Man
Title: Blood and Eternity
Summary: Vampire hunter Adrien Gilbert never dreamed he'd fall for his prey or that his love, Nicolas Lambert, would give him the gift of immortality. But when a hunter bent on destroying the truce between vampires and hunters throws the gauntlet at Adrien's feet, Adrien must travel through time to save Nicolas, and with him, the entire vampire race. The time has come to make a choice—one they will live with for eternity. In this final installment in the Blood Trilogy, Adrien and Nicolas must face their greatest enemy in a deadly last confrontation. But to prevail, they'll need to master the enemies within. When Adrien awakens to a future he doesn't recognize, he faces an impossible decision: live a perfect life with Nicolas in a shattered world, or risk everything to repair a broken past. But before he can challenge vampire hunter Verel Pelletier, he must master the demon who lives in his own mind—and learn to control his ability to travel through time. With Nicolas by his side, he prepares for a final battle against a powerful adversary who likes to play games with the past and future. But the price of ensuring a future for their loved ones may be an eternity spent alone.
Release Date: 2018-07-31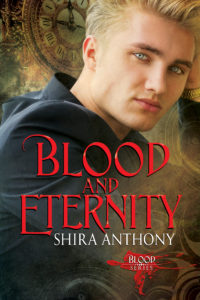 Blood and Eternity
Title: Blood and Ghosts
Summary: Sequel to Blood and Rain With vampire Nicolas Lambert's marriage to a rival clanswoman only weeks away, Adrien Gilbert struggles to come to terms with his defeat at the hands of Verel Pelletier, a vampire hunter and an immortal like himself. Adrien and his former teacher, Roland Günter, begin to explore his newly acquired abilities. But without his soul's sword, Adrien flounders. On Nicolas's wedding day, a two-hundred-year old secret is revealed, sending the wedding party into a blazing battle between hunters and vampires. Once again Adrien finds himself facing Pelletier's superior strength. Just as Adrien believes all hope of a future with Nicolas is lost, he finally learns his true gift—he can turn back time. But time travel comes with a high cost. To save Nicolas, Adrien must become strong enough to use his power without descending into madness.
Release Date: 2015-04-20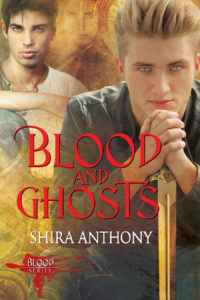 Blood and Ghosts
Title: Blood and Rain
Summary: Adrien Gilbert has spent several lifetimes searching for the love he lost. Born in the 1800s into a clan of fabled vampire hunters, Adrien once wanted nothing more than to tend his family's vineyard in southern France or read a good book. But Adrien's peaceful existence ends abruptly when his older brother, François, is murdered. Bound by his hunter's oath, Adrien sets out on a path that will forever change his life when he agrees to execute his brother's killer, the vampire Charles Duvalier. After months chasing the elusive Charles, Adrien reluctantly makes a bargain with Nicolas Lambert, an ancient vampire. Adrien will escort Nicolas to Paris for his marriage to a rival clanswoman, and Nicolas will help Adrien find Charles. Nicolas's quiet strength and gentle heart soon convince Adrien that Nicolas is nothing like the vampires he has sworn to destroy. As the wedding date draws nearer, a force intent on destroying the fragile peace between the vampire clans threatens to tear apart both the vampire realm and the world of the hunters. To secure both past and future for those he loves, Adrien must find a way to stop the looming war between hunters and vampires. But first he'll have to let Nicolas go. Note:  This is the first in a series of three novels entitled Blood and Rain, Blood and Ghosts, Blood and Eternity. The series it set in France in 1895 and in the present day, and features three MM pairings. Books in this series must be read in order.
Release Date: 2014-12-15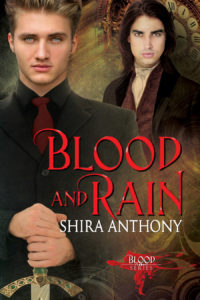 Blood and Rain