Title: Dissonance
Summary:
British Lord Cameron Sherrington has hit rock bottom. The love of his life, opera sensation Aiden Lind, is marrying another man, and Cam knows it's his own fault for pushing Aiden away. Then someone tries to set him up and take away his family business. Facing arrest by US authorities on charges of money laundering and with no money to return to London, Cam decides to run. But with no money and no place to stay, it's not exactly the Hollywood thriller he'd imagined. When Cam hears Galen Rusk play in a lonely subway station, he's intrigued. But his assumptions about Galen are all wrong, and their unusual relationship isn't exactly what Cam bargained for. Add to that the nightmares that dog him nightly, and Cam's world is shaken to its core. Cam figures he had it coming to him, that it's all penance due on a life lived without honesty. He just never figured he might not be able to survive it. Note: Blue Notes Series novels are standalone stories, and can be read in any order.
Release Date: 2014-08-08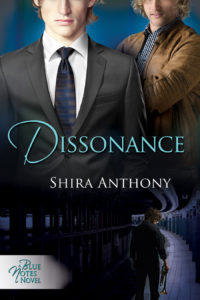 Dissonance
Title: Encore
Summary: A Blue Notes Novel
Cool kid violinist Roger Nelson doesn't give a damn about anything. Wannabe conductor John Fuchs is awkward, effeminate, and just figuring out he's gay. Despite their differences, they become friends—then lovers—and after college, they try to make it work. But it's the 1970s, and Roger can't bring himself to admit he's gay. Worse, after his brother is killed in Vietnam, Roger tries to live up to his memory and be the perfect son. Then after suffering one tragedy too many, he makes the biggest mistake of his life: Roger pushes John away. Through the years, they dance around the truth and in and out of each other's lives, never quite able to let go. Twenty years later, Roger still carries the pain of losing his dream of a brilliant career with him, while John is a superstar conductor with a wild reputation. John's off-stage antics get him plenty of attention, good and bad, though deep down, he wants only Roger. Finally determined to hold on to what really matters, Roger asks John for another chance, and when John panics and runs, Roger has to convince him to listen to his heart.
Note: The Blue Notes Series can be read in any order. Each novel is a stand-alone story from the same classical music universe.
Release Date: 2013-11-11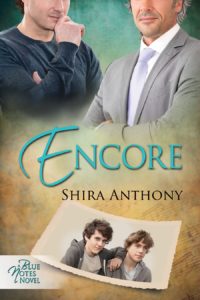 Encore
Title: Prelude
Summary: World-renowned conductor David Somers never wanted the investment firm he inherited from his domineering grandfather. He only wanted to be a composer. But no matter how he struggles, David can't translate the music in his head into notes on paper. When a guest violinist at the Chicago Symphony falls ill, David meets Alex Bishop, a last-minute substitute. Alex's fame and outrageous tattoos fail to move David. Then Alex puts bow to string, and David hears the brilliance of Alex's soul.
David has sworn off relationships, believing he will eventually drive away those he loves, or that he'll lose them as he lost his wife and parents. But Alex is outgoing, relaxed, and congenial—everything David is not—and soon makes dents in the armor around David's heart. David begins to dream of Alex, wonderful dreams full of music. Becoming a composer suddenly feels attainable. David's fragile ego, worn away by years of his grandfather's disdain, makes losing control difficult. When David's structured world comes crashing down, his fledgling relationship with Alex is the first casualty. Still, David hears Alex's music, haunting and beautiful. David wants to love Alex, but first he must find the strength to acknowledge himself.
Release Date: 2013-05-06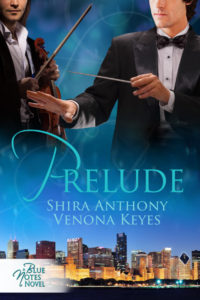 Prelude
Title: Symphony in Blue
Summary: A Blue Notes Novella (Sequel to Books 1-4 of the Blue Notes Series) Are you a fan of the Blue Notes series? Would you like to know where the couples from the first four books are now? This is your chance to catch up! Aiden and Sam are finally getting married. But when Cary and Antonio's baby daughter makes her appearance a bit earlier than planned, the big reception is put on hold. David Somers normally conducts orchestras, but this time he devotes his energy to "conducting" his friends so that everyone can join him at his Milan villa for a reunion at an intimate Thanksgiving dinner. Sam and Aiden, Jules and Jason, David and Alex, and Cary and Antonio are soon assembled, and each couple shares something they are thankful for. Played out in four movements, this symphony is a celebration of friendship and love, orchestrated by David. Note: This book is meant as a sequel to the first four Blue Notes Series books.  However, some readers have suggested it's a great jumping off point for the series and introduction to the characters.
Release Date: 2013-12-13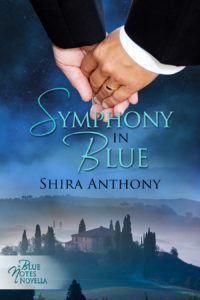 Symphony in Blue
Title: The Melody Thief
Summary:
Cary Redding is a walking contradiction. On the surface he's a renowned cellist, sought after by conductors the world over. Underneath, he's a troubled man flirting with addictions to alcohol and anonymous sex. The reason for the discord? Cary knows he's a liar, a cheat. He's the melody thief. Cary manages his double life just fine until he gets muggedon a deserted Milan street. Things look grim until handsome lawyer Antonio Bianchi steps in and saves his life. When Antonio offers something foreign to Cary—romance—Cary doesn't know what to do. But then things get even more complicated. For one thing, An tonio has a six-year-old son. For another, Cary has to confess about his alter ego and hope Antonio forgives him. Just when Cary thinks he's figured it all out, past and present collide and he is forced to choose between the family he wanted as a boyand the one he has come to love as a man. Note: Book #2 in the Blue Notes series. The series can be read in any order. Each is a stand-alone story from the same classical music universe.
Release Date: 2012-08-24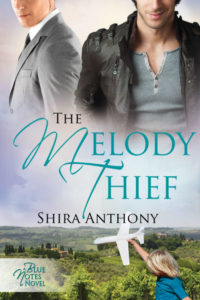 The Melody Thief
Title: The Trust
Summary: Eight years ago, Jake Anders was a college kid from the wrong side of the tracks. Then Trace Michelson recruited him into The Trust, a CIA-backed agency whose "executives" eliminate rogue biotechnology operations. Trace was everything Jake ever wanted in a man: powerful, brilliant, and gorgeous. But Jake never admitted his attraction to his mentor, and Trace always kept Jake at arm's length. Now Trace is dead and Jake is one of The Trust's best operatives, highly skilled and loyal to the organization. But the secret agent has his own secret: six years ago, before he was assassinated, Trace designed a Sim chip containing his memories and experiences—and now that chip is part of Jake. It's just data, designed to augment Jake's knowledge, but when Sim becomes reality, Jake wonders if Trace is still alive or if Jake really is going crazy like everyone claims. He doesn't know if he can trust himself, let alone anyone else. To learn the truth about Trace and the chip, Jake embarks on a dangerous mission—except he's not the only one looking for the information. Some of the answers are locked in his head, and unless he finds the key, he'll be killed for the technology that's become a part of him. Now, more than ever, Jake wishes Trace were here to guide him. Too bad he's dead… right?
Release Date: 2012-06-18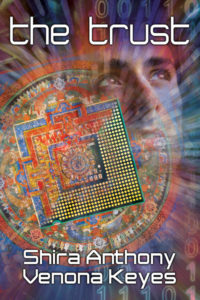 The Trust