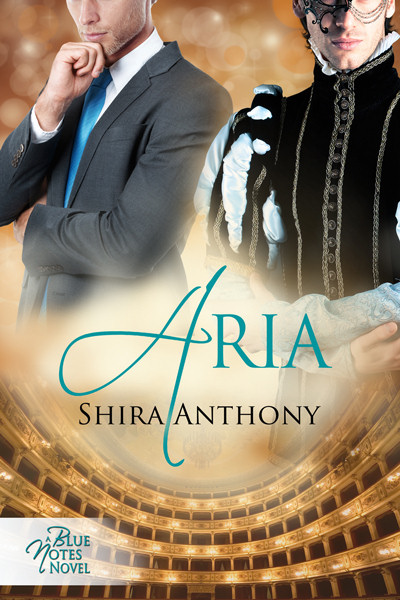 Five years after a prestigious scholarship jumpstarted his opera career, Aiden Lind has it all: fame, choice roles, and Lord Cameron Sherrington to share his life with. Maintaining his façade takes effort, but under his poised, sophisticated mask, Aiden is still the insecure kid from rural Mississippi. Then he walks in on Cam with another man, and the illusion of perfection shatters.
Philadelphia attorney Sam Ryan never moved on after his partner died, though he tried. Instead of dating, he keeps himself busy with work—but when he unexpectedly runs into ex-lover Aiden while on a rare vacation in Paris, he's inspired to give their love a second chance. First, though, he'll have to get Aiden to forgive him. Because when Sam was still grieving five years ago, he broke Aiden's heart.
When rekindled lust blossoms into a true romance, it seems like the start of something wonderful. But Aiden's career has him on the road much of the time, and the physical distance between him and Sam starts translating into an emotional disconnect. If Aiden and Sam can't learn to communicate, their separation may prove more than their love can bear.
Note: Book #3 in the Blue Notes series. The series can be read in any order. Each is a stand-alone story from the same classical music universe.
The Pearl Fishers (Bizet) – Duet: http://www.youtube.com/watch?v=nDn_t4tEWiQ (Bjoerling/Merrill) and a bit newer version http://www.youtube.com/watch?v=YkTaS7SnCRk (Hadley/Titus). And finally, a glimpse of how the opera might look on stage (I can just see Aiden in this scene, can't you? That would be him on the right.): http://www.youtube.com/watch?v=y3xyp54bZqs&feature=related(Burden/Gunn)
Don Giovanni (Mozart): This is the final scene from the opera when the dead Commendatore comes back to drag Don Giovanni (Don Juan) to hell with him. http://www.youtube.com/watch?v=dK1_vm0FMAU&feature=related (Sam Ramey as Don Giovanni )
Tosca (Puccini): This is the death scene where Floria Tosca stabs the villain, Scarpia, to death. http://www.youtube.com/watch?v=z4PlDiZOQiE (Milnes/Kabaivanska) Note - the scene ends with Tosca saying, "And before him, all of Rome trembled) - gives me goosebumps every time!
Un Ballo in Maschera (Verdi): "Eri tu" (It was you!) baritone aria where Renato, the husband of the heroine accuses her of having an affair with the King and afterward resolves to kill the King (it turns out she didn't cheat on her husband). http://www.youtube.com/watch?v=x0nR4LXXDJU (Gobbi)
Manon (Massenet): Another baritone "villain" role. Manon's brother tries to keep her away from the tenor. Suffice it to say, things don't end well for Manon or her love interest! http://www.youtube.com/watch?v=mmZASlKRVi4 (Sarp)
Prince Igor (Borodin): http://www.youtube.com/watch?v=QpmzHsWl3FQ (Hvorostovsky)
Otello (Verdi): Iago's "Credo." (Cappuccilli and later in the recording, Milnes, for comparison) http://www.youtube.com/watch?v=ZGKJfW8pcl8
The Barber of Seville (Rossini): Figaro's famous aria, "Largo al factotum". This is the aria Aiden jokes about not being able to sing at the end of the story because it's too high for his voice. http://www.youtube.com/watch?v=rmTcmBn56Jk (Prey) And given what Aiden does sing well, he's probably right that this one wouldn't be his best!
Falstaff (Verdi): Not exactly the sexiest baritone role there is! But a lot of fun. http://www.youtube.com/watch?v=XVscocwMJSU (Terfel)
Il Trovatore (Verdi): Another classic, misunderstood villain. Turns out his rival for the soprano and the man he ends up killing at the end just happens to be his brother. Except he didn't know it was his brother. Oops! Gotta love opera. "Il balen del suo sorriso". http://www.youtube.com/watch?v=U4kvwnWGazA (Milnes)
"He Touched Me," Elvis Presley: http://www.youtube.com/watch?v=gWs-F_hRM2c
"Amazing Grace," Elvis Presley: http://www.youtube.com/watch?v=B3XdXEJEI4E